Can Software Dealers Survive The Age Of The Internet?
International is leading the shift to online sales and support
Mort Rosenthal and Rory Cowan have a wager on the future of their new company, Stream International Inc. Rosenthal, who is chairman, says half of Stream's business--distributing software and technical support to corporations--will be conducted entirely over the Internet by the end of the year. Cowan, the company's chief executive, figures it will take at least two years to reach that level.
No matter who wins the $20 bet, the trend is clear: More and more software will be delivered over the Net. Software, after all, is the ultimate digital product--bits that can be zapped anywhere--and Internet software makers such as Netscape Communications Corp. have been sending programs and updates over the Net for more than a year. Microsoft Corp., which began testing online selling late last year, expects 10% of its products to be delivered online within 18 months. By 1999, says Forrester Research Inc., half of all software will be dispensed electronically.
The shift is appealing to software makers and consumers--both can expect lower costs and nearly instantaneous updates. But what about Stream and the other companies that make up the $30 billion industry that moves programs from the factories of software makers to the computers of businesses and consumers? "Resellers are under severe threat," says Forrester analyst Stan Dolberg.
Stream, a $1.6 billion giant of the industry, is determined to lead the change--not get run over by it. Formed last April when the Global Software Services unit of R.R. Donnelley & Sons Co. merged with software distributor Corporate Software, Stream has already begun moving away from the "box" business.
Corporate Software, formed in 1983, steered clear of the storefront retail business, where companies such as Software Etc. and Egghead Inc. eke out tiny margins by selling to consumers. Instead, it focused on supplying big companies with thousands of copies of programs from various manufacturers. It also had been moving into other services such as software installation, technical support, and managing corporatewide licensing contracts with software makers. While these functions are essential for keeping big corporations up-to-date, few companies have the in-house staff for the job and even the biggest software makers won't take it on. Global Software Services, meanwhile, grew as an outsourcing firm for software makers--cranking out programs on diskettes and CD-ROMs, printing manuals and shipping boxes to resellers.
CLEARINGHOUSE. The combined company, which is 80% owned by Donnelley, figured they could handle all the steps it takes to move a program from a developer such as Microsoft--a big Stream customer--to the computer on a corporate desktop. What's more, Stream can also take care of upgrades, technical support, and other post-sale services.
The Internet gives the Norwood (Mass.)-based company a chance to add another service for corporate customers and expand its clientele. Stream plans to start with an electronic consumer "store" on the World Wide Web in June. "We aim to be the electronic middleman when someone wants to buy software on the Internet," says Rosenthal. On May 7, Stream announced the Electronic Licensing and Security Initiative, a digital clearinghouse to handle orders and track licenses for software delivered in cyberspace. The system, planned for later this year, is backed by IBM and ATsuperscript&T and uses electronic-commerce security guidelines proposed by Microsoft.
Stream isn't alone in cyberspace, of course. Other software resellers including ASCII Corp. and an alliance led by Software Spectrum Inc. are planning clearinghouses, too. Egghead's electronic commerce subsidiary, Elekom, has been testing an online catalog for a year.
The ultimate competitive threat could come from software makers, who also could go directly to buyers over the Net. But there are plenty of business reasons why they won't--at least not yet. While packaged software still accounts for the bulk of sales, software makers can't afford to lose the support of traditional resellers.
"HEAVY LIFTING." Indeed, software makers say they aren't interested in ending the dealer system because it's a way to provide services they can't. "The channel adds value that will still be important when we distribute electronically," says Johan Leidgren, Microsoft's liaison with resellers.
Rosenthal is more blunt: "We do a lot of heavy lifting for them, cheap." One example: More than 40% of software support phone calls farmed out by corporations are handled by Stream. And revenue from that business is doubling every year, says Rosenthal.
Stream figures that the Net can ease some of that heavy lifting, too. Take license management--tracking the copies of programs companies are allowed to make under "site license" agreements. Over the Net, Stream figures it can get a better handle on how many copies are in use by distributing electronic "tokens" to customers. Whenever a company needs another copy it can get one over the Net by redeeming a token.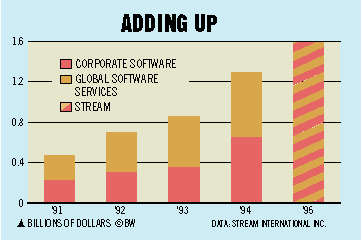 Technical support is another area where Stream plans to push into new territory using network links. Through its electronic store, Stream will charge users for help--a small fee for a simple answer from Stream's technical-support database and a higher one for advice from a real person.
Still, for Stream's gamble to pay off, the company will have to generate an explosion of new business. Increasingly, it expects to make its money off transactions--software downloads, help calls, license redemptions--rather than from marking up software boxes. That strategy requires volume, one reason why Stream is using its online store to go after thousands of new consumer and small-business customers. "We believe being big and nimble is better than being little and nimble," says Rosenthal. If he's right, he'll pocket more than $20.
Before it's here, it's on the Bloomberg Terminal.
LEARN MORE