Can Jim Unruh Stop The Unisys Slide?
The embattled CEO says yes--but analysts remain highly skeptical
For a change, Unisys Chief Executive James A. Unruh has had something to smile about lately. A new line of computers has been well received. Along with Unruh's recent promise that Unisys' latest restructuring should put it back in the black this year, that has pushed the long-struggling stock up recently. And though Unruh, 55, was pilloried by angry shareholders at the Apr. 25 annual meeting, he handily defeated a bid by investment firm Greenway Partners to split Unisys Corp. into three parts.
But an end to Unruh's troubles may not be so close. They run far deeper than restive shareholders. As Unisys heads into its fifth restructuring in seven years, many managers have been leaving. More than 20 former and current executives interviewed by BUSINESS WEEK question whether Unruh has the plan to put Unisys back on solid ground. "If he doesn't leave, the company will [continue] walking down this death spiral," says Craig J. Mento, who quit as head of Unisys' telecommunications unit in 1995. Adds Frederick D. Ullman, head of computing services at State University of New York College at Fredonia, a customer: "If I had 10 minutes with Mr. Unruh, I would tell him to stop reorganizing and make it work."
Unruh counters that massive changes were needed to shore up the lagging company. "If restructuring is about making changes," he says, "we will never be done." And Unruh was dealt a difficult hand. Even fierce critics give him credit for saving the nearly bankrupt company after he took over in early 1990. All mainframe makers were seeing revenues slide with the shift to networked computing. Unisys also carried $3.5 billion in debt from the 1986 merger of Sperry Corp. and Burroughs Corp. that created it. Oozing red ink, its stock sank from 48 in 1987 to 21/4 by 1990.
Unruh moved decisively to cut costs while pouring funds into computer services. By early 1993, the medicine took hold, and Unruh told analysts that "management has no intention of ever again taking another large restructuring charge." After 1993 earnings soared to $565 million, the stock hit 15.
GOOD REVIEWS. The hurrahs have long since died out. Another $186 million restructuring charge in 1994 cut earnings to $100 million. In 1995, Unisys lost $624.6 million on revenues of $6.2 billion. Most resulted from a $717.6 million pretax charge for the latest reorganization, which splits the company into three. Unisys' hardware and software unit now sells models from PCs to mainframes, its maintenance unit services and connects those computers, and its consulting services unit designs integrated systems for corporate clients. First-quarter results remained poor: Unisys lost $13.4 million--almost double analysts' estimates--and the stock fell again, to 6.
Positive reviews for Unisys' new Aquanta PCs and ClearPath line of computers--which combine proprietary mainframes with open systems that run standard software such as UNIX--have since bumped the shares above 8. Some take that to mean bargain-hungry investors are bottom-fishing. "People are looking for fallen angels with dirty faces," says Michael Geran, an analyst with Pershing, the research division of Donaldson, Lufkin & Jenrette Co. And after years of hearing turnaround promises from Unruh, Wall Street is skeptical. "All he did was paint a pretty picture," says Salomon Brothers Inc. analyst John B. Jones Jr. "He's done that before, and investors remember the last few times." Jones expects 1996 operating profits of just $14 million.
Few quibble with Unruh's move to emphasize services over mainframes. But insiders say that in its haste to cut costs and push services, Unisys slashed support for existing clients. Some felt abandoned. "They don't have enough people to service the customer," says William E. Riggs, information-services manager for one longtime client. He switched from Unisys to Compaq Computer Corp. this year.
Former and current executives say much of the difficulty lay in a complex new matrix structure Unruh ordered up in 1993. Sales staffers began reporting to both regional managers and industry-specific managers. Meant to simplify selling the new consulting services to mainframe clients, it instead created a confusing bureaucracy. "The services-led strategy is correct," says one former high-level executive. "But the execution was crafted in a vacuum, and when they unveiled it for the real world, it buckled." Unruh says the system was needed to build up services.
ROADMASTER. Unisys managers also say that Unruh, unlike rivals such as IBM's Louis V. Gerstner Jr., had trouble maintaining relationships with big customers and inspiring his troops. Unruh, who joined Memorex--later bought by Burroughs--in 1980, is a somewhat shy career finance man. "His mentality was that the salesman was a necessary evil," says Philip B. Feinsot, a marketing vice-president who quit recently. The result: Many top sales and marketing execs have left since 1993.
Unruh denies that customer relations are a problem. Citing recent surveys by Computerworld magazine that rate Unisys second among computer service companies in customer service, he says he spends 60% of his time in the field. "The ultimate scorecard is a bigger increase in client satisfaction," Unruh says. But Unisys continues to lose hardware business from longtime clients such as U S West Inc. "We just eroded that relationship," says former telecom head Mento. Both Unisys and U S West attribute the loss to its desire to consolidate purchases with IBM.
Some of the lost hardware revenues will be made up by the new ClearPath systems. But even strong sales there may not be enough. Alan G. Lutz, who heads Unisys' Computer Systems Group, concedes the strategy is a defensive one; at best, he says, ClearPath products will hold mainframe revenue declines to less than 10% a year.
Meanwhile, services have been unable to pick up the slack. Although service revenues have been growing about 30% a year, to hit $1.8 billion in 1995, costs increased faster than expected as Unisys pushed for share. And Unisys has yet to turn a profit in this arena: Last year, it lost an estimated $54 million. That's because Unisys underestimated the cost of some contracts. In 1995, it wrote off $129 million for money-losing contracts.
Moreover, a number of high-profile services contracts have not panned out. One such deal was a 1994 contract for a motor-voter registration system for the state of Massachusetts, intended as a precursor to similar deals in many states. But Massachusetts has since filed suit, alleging that Unisys was unable to get the problem-plagued project working and abandoned it. Unisys says it halted work when the state stopped paying its bills and has countersued.
Unisys points to a services contract with the Massachusetts Revenue Dept., which uses its imaging equipment, as more typical. Yet that contract also helps explain why Unisys is having such a hard time making money in its new business. Although it spent some $3 million on Unisys equipment, Commissioner Mitchell L. Adams says he got $5 million in free services in exchange. "They agreed to do systems designs and software development at no charge," Adams says.
The problems appear to have cost Unruh the confidence of many managers. An anonymous letter sent to Unisys' board--a copy was received by BUSINESS WEEK--cites 33 senior executives, including eight officers, who have left since 1992. "We are a group of present Unisys employees (senior level) who are gravely concerned about Jim Unruh's leadership," it reads. Unruh says the 33 left for many reasons. One director says the letter "was taken very seriously," but no action appears to have been taken in response.
SHORT STAYS. Turnover isn't unusual in high tech, especially in a struggling company whose workforce has been halved in six years. Yet many execs say the letter reflects current frustrations in Unisys' managerial ranks. "Everybody with the exception of Unruh is looking for a job," says Feinsot, the former marketing vice-president.
Unruh denies turnover has been high. "Some people haven't been the right fit in the team," he says. "Humans don't like change." Yet even high-level outsiders Unruh brought in to steer the turnaround didn't stay long. Victor E. Millar, whom Unruh hired in 1993 to lead the services charge, lasted little more than a year, then moved to AT&T. He says he left for a better job. Other losses include key members of a sales team that focused on the financial industry; they defected to Oracle Corp. The managerial exodus has continued over the past year, owing partly to voluntary layoffs.
Will Unisys' new structure do better? Since more than 80% of customers do business with at least two of the units, woes may continue. "I'm not sure I want to have two or three people from the same company calling me," says Bill Krewson, a business systems consultant with customer Subaru of America Inc.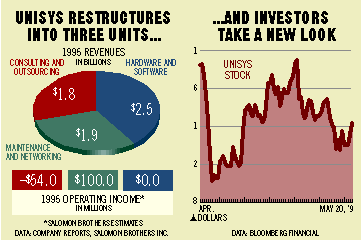 Investors are also increasingly impatient. Although Unisys says Greenway won just 30% of the vote in its bid to break the company up, Greenway Senior Managing Director Alfred D. Kingsley claims it won roughly 35%. With 4.8% of Unisys shares, he says Greenway is not giving up. "We're going to go directly to large shareholders," he says. Investors have also questioned whether the board--which includes two directors ousted from their own companies--is too complacent.
Unruh's vow that reorganization and a new round of products will turn the tide seems to have won some breathing room. But if Unruh isn't right this time, he may not get the chance to try again.
Before it's here, it's on the Bloomberg Terminal.
LEARN MORE