When The Rockets Stop Falling...Factories Just Pick Up The Pace
The crowds have returned to Tel Hai Street in Qiryat Shemona, Israel's northernmost town--just 2 kilometers from the Lebanese border. This Israeli version of Main Street has been humming since the Apr. 26 cease-fire ended fighting between Israel and the Shiite Hezbollah militia. But just 200 meters away, on Herzl Street, stand apartment buildings with gaping holes. They were hit by Katyusha rockets, which damaged some 1,200 apartments in all.
Most of the 22,000 townsfolk left during the 2 1/2 weeks of the Grapes of Wrath operation. The 4,000 or so who remained spent most of their time in bomb shelters trying to dodge the 500 rockets that rained down. Now, the residents are back, and local contractors are doing a brisk business. Loud sounds of construction--cement mixers, jackhammers, drills--echo everywhere.
Consumer demand seems to be exploding, too--and merchants have been quick to react by offering discounts. Halfway down Tel Hai stands the local branch of Hamashbir Lazarchan, Israel's largest department-store chain. In early May, it was offering 30% price cuts on most items. "The store is packed from morning to night," says manager Rafi Wollf. Sales are more than double what they were a year ago.
In peacetime, Qiryat Shemona is something of a backwater. Founded in 1949, it was first inhabited almost entirely by immigrants from North Africa. Population grew little in the '70s and '80s, as many residents left for safer locales. But since 1990, the population has leaped by a total of 25%, thanks to an influx from the former Soviet Union.
For two decades, the Lebanese border was Israel's quietest. That ended in the late 1960s, and since then, Qiryat Shemona has been under periodic bombardment by various anti-Israeli groups in southern Lebanon. Nearly 4,000 rockets have landed in the town since 1968. Israel has responded in kind against southern Lebanon, whose residents have suffered a similar fate.
Qiryat Shemona could be a paradise if it weren't so vulnerable. Although the town consists primarily of nondescript apartment blocks, the surrounding countryside of low-lying pine-clad mountains is among Israel's most scenic. The Jordan River is close by, as are several beautiful nature preserves.
But as Amnon Binyamini, head of industrial development for the municipality, delicately puts it: "Our location has given us a real image problem." Binyamini admits his task may be one of the hardest in Israel: trying to attract investment to a town where factories have to shut down when the rockets start falling.
Binyamini and Mayor Prosper Azran have called on the government to grant their town a special status to attract new investment. With elections less than three weeks away, Israeli Prime Minister Shimon Peres on May 12 announced a $280 million plan for tax breaks encouraging development of the border region in general and Qiryat Shemona in particular. But even the best-intentioned program is not likely to give the town what it really needs: a solid peace and permanent respite from the horrifying shriek and crash of incoming Katyushas.
Migada is typical of the handful of larger companies in Qiryat Shemona. Located in the industrial zone just north of town, Migada shut down during Grapes of Wrath. Most of its 115 workers left town. Several Katyushas nearly hit the plant, landing instead in a nearby textile factory.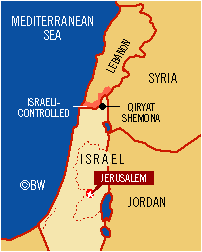 A producer of blood-sampling devices, Migada is a subsidiary of Teva Pharmaceutical Industries Ltd., one of Israel's largest companies. Three-fifths of its output is exported, mainly to the U.S. Like other companies that have set up plants in designated development zones, Migada got a government grant covering 38% of its investment. "We could have received similar benefits to open the plant in other parts of Israel," says Menahem Steinberg, the factory manager. He sees Teva's decision to put the plant in Qiryat Shemona as pure patriotism.
Now that it's rolling again, the plant has laid on extra shifts to meet demand. Migada says sales will reach $10 million this year, a 25% increase over 1995. And--rockets be damned--the company is even planning a $4 million expansion. Clearly, in Qiryat Shemona, the Israeli spirit lives on.
Before it's here, it's on the Bloomberg Terminal.
LEARN MORE