Peugeot Picks Up Speed Far From Home
A big overseas push could make up for tough times in Europe
Cargo planes shuttled from France to China for four years, hauling 49 tons of car designs and manufacturing blueprints, all destined for a joint-venture plant at Wuhan, built by the Citroen unit of auto maker Peugeot. The factory now turns out a zippy little car called Happiness and Prosperity. Priced at $16,780 and based on the European ZX, it is the first European car built in China that is not based on a discontinued model. Unlike such rivals as Volkswagen, Citroen is sharing its newest technology with the Chinese.
The reason for this largesse is simple. Winning new markets is a life-and-death matter for Peugeot. Reliant on a stagnant European market for 88% of its sales--much more than most competitors--the French maker needs the economies of scale that only growth elsewhere can bring. Hence, the China strategy. "China is incontestably the market of the future," says Jacques Calvet, Peugeot's chairman. China plans to develop several large automotive groups with foreign partners. Peugeot, which also builds its namesake brand in China, intends to anchor one of them. Its chief Western rivals so far are VW and General Motors Corp.
Calvet's goal is to double his non-European sales, to 25%, in five years. In April, the first Citroen--an AX priced at $12,330--rolled out of a new plant in Malaysia. In Argentina, Peugeot will boost production at an existing plant, and it will step up marketing in Brazil. A new India factory will soon produce the Peugeot 309 compact. To the amazement of most analysts, Calvet is even mulling production in the U.S., where he halted exports in 1991 after 34 money-losing years. An American beachhead, says Calvet, "would give us an image, a reference for the rest of the world." But Calvet, 64, will retire in 15 months, and his successor may see things differently.
Many global rivals scoff at Calvet's chances. "Who cares about Peugeot?" asks a top executive at a U.S. carmaker. "They don't deliver on excitement." Twenty years ago, Peugeot was Europe's biggest auto maker, after its takeover of Citroen and purchase of Chrysler Corp.'s European units. Since then, it has fallen to third place, with a 12% market share. The president of a major European producer thinks a deep slump in Europe's car market could force Peugeot into a merger. Fiat proposed marriage once but was rebuffed by the crusty, go-it-alone Calvet.
SHARED PLATFORMS. Yet just as Renault has astonished skeptics by rebounding from near-collapse, Peugeot may surprise the doubters. Calvet has doggedly cut costs for eight years, and Peugeot and Citroen are on a par with Fiat as Europe's lowest-cost carmakers. Peugeot now successfully uses the same engines and mechanical platforms for Citroen and Peugeot models. Citroen's tiny Saxo, launched in March, is a Peugeot 106 under the skin.
Equally important, the company now makes far better cars. In consumer-satisfaction studies by consultant J.D. Power & Associates, Peugeot and Citroen now outrank VW, Fiat, and Renault. Peugeot's suspensions "are the best of any in the world, no doubt about it," says Gavin Green, editor of Britain's Car magazine. The new midsize Peugeot 406, marketed last fall, has won strong praise. Peugeot has also become the leader in diesel cars, both in numbers and technology, says Nigel Griffiths, auto analyst at DRI/McGraw-Hill in London. Diesel's fuel-efficiency is a plus for emerging markets.
Peugeot's weak points include styling that is fusty--or "prudent" as insiders call it. This reflects the conservative tradition at a company built by austere French Protestants. Plans for sexier cars are now on the drawing boards. Profitability is another weakness (chart). Yet despite mediocre results last year, Peugeot's 1.5% profit margin still beat most of its European rivals except for Fiat.
MEXICAN PLANT. Building profits and a global presence will fall to Calvet's successor. Most likely, he will be Jean-Martin Folz, 49, a jack-of-all-trades manager who joined Peugeot last summer after stints at engineering, aluminum, and food companies. Ex-colleagues call him good-natured and "brilliant." His rival to succeed Calvet--Jean-Yves Helmer, a company veteran who ran its automotive unit--left in March for a government job.
Some analysts think that Folz may be more pragmatic than Calvet, especially when it comes to a possible merger. Calvet has resisted merger because it took 15 years to meld cultures at Peugeot and Citroen and "we're just getting there," he says. Folz lacks that historical baggage. Fiat, an ally in a minivan venture, remains a potential partner. Chrysler could also link with Peugeot to secure a strong presence on the Continent.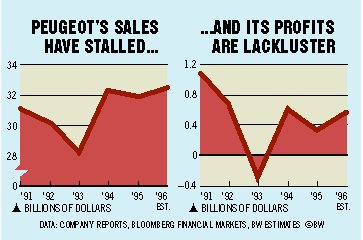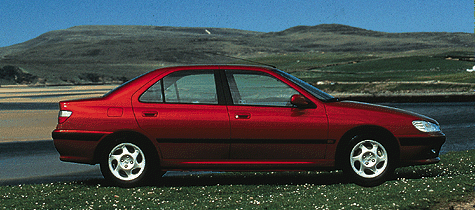 Industry sources suggest Chrysler might also help Peugeot build cars in the U.S. Chrysler's chairman, Robert J. Eaton, says no: "We don't have capacity we'd want to give them, and building a new plant makes little sense." If Peugeot should return to the U.S. market, one company executive says a Mexico plant might be the solution.
Auto experts think Calvet's successor should simply forget the U.S. "I don't see what Peugeot has to offer Americans," says DRI's Griffiths. But emerging markets are another story. The flow of designs from Paris to Asia and Latin America could continue for years.
Before it's here, it's on the Bloomberg Terminal.
LEARN MORE