Britain: Slow Growth Disease
As if mad cow disease weren't enough, Britain must also deal with continued slow growth--with little relief in sight.
Real gross domestic product grew at a quarterly rate of just 0.4% in the first quarter, a bit under expectations and the slowest growth rate in a year. For the year, real GDP is up 2%, the same sluggish pace as in the fourth quarter but far below the 3.3% gain in early 1995 (chart).
Moreover, the latest data for the second quarter show a struggling industrial sector. The Confederation of British Industry says that business optimism was still negative in April, with a further slight drop in orders from both domestic and foreign sources. Inventories remain a problem, so manufacturers plan only small increases in output in coming months. The purchasing managers' index in April sank to 48.3% from 49.4% in March, the third consecutive decline.
Consumers are doing O.K., though not great. The unemployment rate fell to 7.8% in March, the lowest rate in five years. Retail volume rose 0.2% in March, with the gain mostly coming at large chain stores that can offer low prices.
Of course, the stiff pricing climate has held down inflation. Retail prices rose 0.4% in March, or 2.7% from a year ago. The underlying rate, which excludes mortgage-interest payments, was up 2.9% from a year ago--nearing the government's target of 2.5%.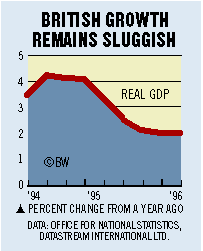 The economy's weak performance last quarter undermines the forecast of 3% growth in 1996 put forth by Chancellor of the Exchequer Kenneth Clarke. Therefore, the Bank of England will remain under pressure to cut short-term interest rates. The Conservative Party, which faces a general election by May, 1997, had been hoping to boost its low opinion-poll ratings with a tax cut. But that seems unlikely now: Public-sector borrowings are already over target, and a recent court ruling could mean a repayment of billions of pounds in value-added taxes. So lower interest rates seem the only way for the monetary authorities to give the economy a boost.
Before it's here, it's on the Bloomberg Terminal.
LEARN MORE