Does Firepower = Earning Power For Lockheed Martin?
The defense contractor is placing a costly bet that it does
For nearly a decade, Lockheed Martin chief executive and president Norman R. Augustine has raced to ensure that his company emerges as the top gun in the consolidating defense industry. On Apr. 23, as Lockheed Martin's $9.1 billion buy of most of Loral Corp. finally closed, Augustine had clearly hit his goal. Today, he sits atop a $27 billion one-stop weapons shop that is nearly double the size of his nearest rival. "We are going to be one of the survivors," declares Augustine.
Now, however, comes the biggest battle: Augustine must make the Bethesda, Md.-based company--the amalgamation of two dozen defense companies--work. The buying binge capped by the Loral deal is raising eyebrows in business, labor, and political circles. Competitors who are also customers fret about potential conflicts of interest. Employees are facing another restructuring while they're still dealing with the March, 1995, marriage between aircraft maker Lockheed Corp. and Augustine's Martin Marietta Corp. And defense strategists worry that the brawny company will have too much political clout.
BREATHER. Some experts, however, see dollar signs where others see arm-twisting. They applaud the purchase of Loral's defense electronics and systems integration businesses as the latest in a series of smart strategic moves by Augustine, who will succeed Daniel M. Tellep, the former CEO of Lockheed, as chairman next January. "They've done a remarkably good job of adding value through acquisitions," says John R. Raitt, associate director of research for Chicago-based Harris Associates, whose Oakmark Fund held a 1.7% stake in the company at yearend. Cost-cutting plus its array of expertise helped Lockheed Martin win a stunning 60% of the contracts it bid for last year.
Stockholders seem to think the strategy is working. Lockheed Martin's annualized return for the five years ended Dec. 31 was 35.6% for the combined companies, well above the 23.9% posted by the Standard & Poor's Aerospace/Defense Index. Without restructuring charges, 1995 earnings would have risen 17% on flat revenues; for 1996's first quarter, profits were up 9% on a 10% sales drop. Analyst Byron K. Callan of Merrill Lynch & Co. thinks that by 1998, earnings should climb 25%, to $1.5 billion. After some profit-taking, the stock is trading at about 78, down slightly from its January high of 80 7/8.
With government procurement down 60% since 1990, most of the company's earnings will come from cost-cutting. The company already is ahead of schedule on its $1.8 billion annual savings goal from the Lockheed-Martin merger. In June, it drew up a restructuring plan to shrink the workforce by 12,000, to 150,000. Another penny-pinching tactic is volume buying. Centralizing its $15 billion in annual purchases should save on everything from transistors to paper. Similar ploys will be used with the highly decentralized Loral to trim about $400 million a year.
But cost-cutting can only go so far. And although Augustine hasn't ruled out more acquisitions, it's a good time for a breather. Acquirers are paying the highest price for a dollar of sales in a decade--though no one expects a big spending ramp-up anytime soon. Northrop Grumman's $3.5 billion purchase of Westinghouse Electric's defense business was valued at 130% of sales, and the Loral deal went for 134%, compared with an average of 37% in 1991.
SLIM PICKINGS. One reason for the high valuations is that the remaining targets are in the few expanding sectors of the industry. "You can grow the bottom line only so much without growing the top line," says Lockheed Martin CFO Marcus C. Bennett. Loral, for example, has electronics offerings ranging from battlefield simulations to missile technology--and the Electronic Industries Assn. predicts a 23% rise in the electronics part of the Pentagon procurement budget by 2000, to $19.9 billion. Then there's the fact that there's little left to buy. "The cabbage patch has been picked over," says Augustine.
Yet not everyone likes Augustine's strategy. "We could have spent $2 or $3 billion on defense," says Westinghouse Electric Corp. Chairman Michael H. Jordan, "but we made the decision not to. Revenue growth was going to be tough, and the bottom line was going to come only through cost reduction."
And acquisition-led growth may become increasingly difficult. So far, the government has approved defense deals on the belief that there continues to be enough competition. But the Apr. 18 settlement with the Federal Trade Commission mandated that Lockheed Martin restrict access to confidential information about competitors' fighter aircraft and unmanned aerial vehicles. The next deal may also get heavier scrutiny, since the Pentagon called for a study of whether integrated companies favor their own units.
A more near-term worry is the reaction of such customers as McDonnell Douglas, which also are competitors on contracts, such as the $750 billion Joint Strike Fighter. While Peter R. D'Angelo, executive vice-president and CFO of Raytheon Co., says he won't shy away from Lockheed Martin if it offers the best value, McDonnell Douglas President and CEO Harry C. Stonecipher says he will look elsewhere. "The business equation doesn't work quite as well in buying equipment from your competitors," he told analysts. Because big contracts are won on the political battlefield as well as on the price and technical fronts, Stonecipher thinks suppliers that are competitors could have divided loyalties.
Augustine dismisses this notion altogether. "Lockheed Martin does not believe it serves our customers, our country, or ourselves," he says, "to employ a blacklist purchase policy." Yet skepticism abounds. The stance "is intellectually attractive, but I'm not sure it passes muster at the gut level," says defense specialist James R. Schwendinger of Deloitte & Touche. In the end, Stonecipher's threat may be mere posturing: Many of McDonnell Douglas' purchases from Lockheed Martin are of equipment mandated by the government--such as Loral's night-vision equipment for the F-18 fighter jet.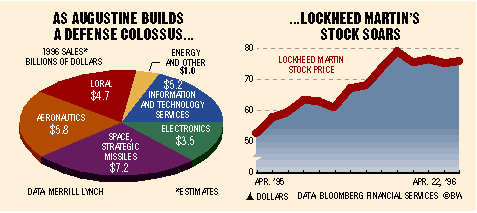 "LOWMORALE." In any case, Lockheed Martin must focus on some critical internal challenges. Industry watchers say Martin Marietta and Lockheed hadn't fully digested other recent purchases, including General Dynamics Corp. and General Electric Co. defense units, when they bought Loral. Now, along with the difficulties of a yet-to-be-announced post-Loral restructuring-- insiders say a common name for the company is "Lowmorale"--Augustine must create a unifying vision for an increasingly complex empire. Even Augustine agrees it's a lot to swallow. It would have been better to wait a year or two to buy Loral, he says, but "when opportunity knocks you can't say, `Come back in two years."'
Can he and his lieutenants pull it off? "They're some of the smartest people in the business," says Merrill Lynch's Callan. They've made plenty of good moves so far. But they'll have to make many more to cash in on the defense business in the 21st century.
Before it's here, it's on the Bloomberg Terminal.
LEARN MORE