U.S.: A Spooked Bond Market May Haunt The Second Half
Ever since the financial markets were deregulated in the early 1980s, the bond market has behaved like a manic-depressive, overreacting to every squiggle in the economic data. Well, get out the lithium again.
In recent weeks, bonds have sold off with a vengeance usually reserved for oil shocks and wars. As a result, long-term interest rates, including those for mortgages and other consumer loans, have risen by nearly a full percentage point. The yield on 30-year Treasury bonds is fast approaching 7%, and 30-year fixed mortgages have topped 8%. Two-year rates are above 6%, up more that 11/4 points.
The trouble is, the rate runup could easily clip half a percentage point from what growth in real gross domestic product would otherwise be in the second half. Already, refinancings have plummeted. The housing market may be headed for a disappointing building season. And demand for durable goods will suffer, especially given the mounting installment debt of households--and now, the higher cost of carrying those IOUs.
However, the bond market is still focused on the first half. The market has sent rates skyward, thanks to a growth scare set off by the surge in February payrolls and egged on most recently by a stronger-than-expected jobs gain in March.
The market fears that a robust economy will set wage and price pressures in motion, forcing the Federal Reserve to hike short-term interest rates. Interest-rate futures markets are betting on a Fed tightening by yearend. But if strong growth is just a scare, as a closer reading of the data suggest, higher rates will cut into the economy's already modest trend.
THE BOND MARKET'S HISSY FIT all started with February's 705,000 surge in payrolls, which a Treasury Dept. memo called "statistically implausible," much to the chagrin of the Labor Dept.'s data gatherers. In the March report, Labor revised the gain to 624,000, still a 12-year high, and it also said that March jobs rose by 140,000, twice what Wall Street had expected.
Never mind that the March increase was close to the average monthly gain for all of 1995, when the economy was struggling to grow 1.3%--or that the unemployment rate ticked up to 5.6%, from 5.5% in February.
Instead, the bond market fixated on the 206,000-per-month average growth during the first quarter, a big jump from the 142,000 average in the fourth quarter. Of course, when the May data come out and February's bloated number leaves the three-month average, the trend probably will look a lot more like last year's pace. Besides, even an average of 206,000 jobs per month pales beside the 1994 average of nearly 300,000, when the economy was growing at a 3.5% clip.
The market also ignored the fact that the average first-quarter workweek was below that of the fourth quarter. That means that despite faster job growth, overall employee hours--a good measure of economic activity--actually fell last quarter. Historically, that has usually signaled economic weakness, not strength.
LOOKING LONGER-TERM, the trend in payrolls is down, not up. That's typical in an aging expansion. The slowdown shows up in both services and manufacturing. Also, wage growth remains tame (charts). Services, which added 212,000 jobs in March, have generated all of the payroll gains in the past year. But while service employment is up 1.9% from a year ago, that pace is down from 3.1% in the first quarter of 1995.
Manufacturers are still shedding jobs, with payrolls plunging by 62,000 in March. Job losses in motor vehicles and parts explained half of that drop, reflecting the strike at General Motors Corp. But the economy cannot be truly robust without a healthy factory sector, which, as other data show, is still lacking.
The bond market's big worry is that strong labor markets and demand will fuel inflation. Right now, it has an eye on commodity prices. The Knight-Ridder-CRB futures index is at a 71/2-year high. The rise has not been broad, though. It can be traced mainly to a 50% surge in grain prices in the past year, a result of a bad harvest and strong foreign demand. Energy prices are also up, given the $3-per-barrel jump in oil since January. However, industrials prices are down from a year ago.
Higher raw-materials costs for food and energy may work their way into the producer and consumer price indexes in coming months. But those effects won't last. Core inflation, a measure of inflation's underlying trend because it excludes the ups and downs that food and energy can cause, will continue to behave itself.
Meanwhile, wage growth, while up a bit in the service sector over the past year, is going nowhere in manufacturing. Overall, the annual rise in hourly wages was 3% in the first quarter, up from 2.7% a year ago but down from 3.2% two quarters ago. Combined with the slowing trend in job growth, that pace hardly suggests that consumers are ready to splurge.
INCOME GROWTH remains steady enough to justify consumers' willingness to take on more debt. However, something else the bond market hasn't noticed is that the pileup of old IOUs is taking a bigger bite out of household budgets, leaving less cash for new spending.
Consumer installment credit jumped by $12 billion in February, or at an annual rate of 13.9%. Revolving debt, which includes credit cards, rose an additional $6.4 billion. Auto financing was up by $3 billion.
Outstanding debt hit a record 19.1% of disposable income in February, so it is no great shock that credit constraints are rising. Credit-card delinquency rates edged up to 3.3% in the fourth quarter, from 2.4% a year earlier. And the rate will go higher in 1996, says the American Bankers Assn.
In the fourth quarter, payments on mortgages and installment debt grabbed 16.7% of aftertax income. Repaying installment debt alone took 10.9%, the highest rate in 20 years (chart). Debt service is probably why the recent pickup in income has not touched off a spending spree. Since August, real disposable income has increased at a 4.3% annual rate, while real consumer spending is up just 2.3%.
Is the debt spurt dangerous to the economy? Not yet. In general, debt levels become a problem only when employment and income growth get into trouble.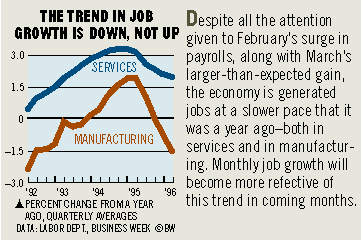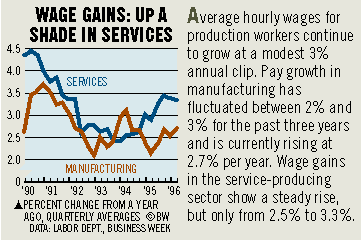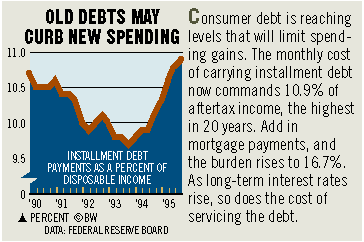 Moreover, although the ratio of installment-debt payments to income has risen, the mortgage ratio is down, thanks to past low rates and the 1993 wave of refinancings. Also, the delinquency rate is still below the levels hit before the past two recessions, while the rate on overdue mortgage payments is less than that of the 1980s and early 1990s.
The bottom line: Bond yields are now more than four percentage points above the current inflation rate, far greater than the historical average. That spread implies that the bond market believes inflation is about to accelerate, a scenario the data just don't support. As a result, when the market's growth scare finally eases in coming months, bond yields are likely to fall--preferably before they do any more damage.
Before it's here, it's on the Bloomberg Terminal.
LEARN MORE