U.S.: It's Way Too Early To Write Off A Rate Cut
Have we seen the last of the Federal Reserve's rate cuts? Only a few weeks ago, another quarter-point cut in the 5 1/4% federal funds rate at the Fed's Mar. 26 meeting looked like a slam dunk. Now, that meeting has come and gone with no action, and a few analysts are even betting that the Fed will have to start raising rates later this year.
True, with the data suggesting that the economy is rebounding from its yearlong malaise, it's logical to assume no further rate cuts are necessary. It also makes sense that a bouncier economy may well call for higher rates at some point in order to restrain inflationary pressures. But that scenario works only as long as you believe that the economy is indeed building up another head of steam.
However, that's not the case. Through the haze of the first quarter's distorted reports, the economy appears to have grown about 1%. The latest news shows that housing was healthy in February, and consumers remained upbeat in March (chart). But yet another devil in the data, the strike at General Motors Corp., will rob about one-fourth of a percentage point from the quarter's annual rate of growth.
Some snapback in the second quarter is likely, given better weather and the end of the strike. But even if growth jumps to 3%, the economy's first-half pace would be no faster than its noninflationary trend of about 2%. That pickup would come after five quarters of growth well below 2%, a situation in which price pressures cannot build.
Also, any rebound to above-trend growth is likely to be temporary. By the second half, the recent surge in long-term interest rates will dampen activity in housing and durable goods, and neither consumer outlays, capital spending, nor exports appear ready to step forward as a growth leader. In addition, many businesses are still trying to cut their inventories.
ALL THIS MEANS further rate cuts are not out of the question and that talk about a rate hike is way premature. The first quarter was hit by a series of one-time factors that created extraordinary volatility in the data. The Fed had no choice but to wait for a clearer trend to emerge.
In particular, the Fed's Mar. 26 meeting occurred against the backdrop of especially strong-looking February data that caused a major sell-off in the bond market, resulting in a spike in long-term interest rates. The Fed views bond yields as an indicator of inflationary expectations, and policymakers dared not risk upsetting the markets further by cutting rates at a time when the bond market perceives--rightly or wrongly--that the economy is gathering steam.
The bond market is going to require a lot of convincing, however, that the economy is still on a modest growth track. And until that trend is clear, the Fed is going to have to sit on the sidelines. That means the next chance for a rate cut may even slip past the Fed's next meeting on May 21, all the way to the following powwow on July 2-3.
FLUKY ECONOMIC DATA and a fickle bond market notwithstanding, the Fed has plenty of justification to trim rates. That's because policy is more restrictive than called for by some of the Fed's key benchmarks.
First of all, the current real federal funds rate--5 1/4% minus 2 3/4% inflation--is 2 1/2%. That's nearly three-quarters of a point above the 1.85% historical average (chart), which the Fed takes as a ballpark estimate consistent with its target of a neutral policy.
Also, policy is tighter than called for by the "Taylor Rule," which Fed policy has tracked closely in recent quarters. The rule prescribes a federal funds rate that is consistent with achieving both low inflation and sustainable economic growth. Fed insiders say the rule is a good first approximation of the way the Fed approaches monetary policy. Based on first-quarter estimates, the Taylor Rule says the funds rate is about a half point above the optimum level.
Lower interest rates will probably be necessary to assure that economic expansion stays on track in the second half, since no sector looks ready to break out of the pack. Capital spending is slowing, even in the high-tech sector, amid sluggish profit growth and lower capacity use. Weakness in Europe, Canada, and Mexico will restrain export growth.
Manufacturers of interest-sensitive durable goods are struggling. Their new orders fell 2.5% in February, the fourth decline in the last five months. Bookings in January and February are running below the fourth-quarter average. A plunge in aircraft orders accounted for much of the February drop, in addition to weakness in the auto industry, as Detroit strove to reduce inventories. Excluding the transportation sector, bookings rose 0.7% in February, but the quarterly level is still below that of the previous quarter.
MOST IMPORTANT, while consumers may still have a positive attitude, they are nevertheless getting squeezed by heavy debts. They also continue to be concerned about jobs, despite the big February surge in payrolls, which looks increasingly like an aberration.
Consumer confidence edged lower in March, says the Conference Board. The index dipped to 97.7 from 98 in February. While the level is still consistent with continued spending, the Board says job and income worries suggest that households are not about to go on a buying spree. Indeed, surveys of retail activity through Mar. 23 show that March sales are running below February's, even though Easter sales should be evident by now, since the holiday is early this year.
Against the recent surge in mortgage rates, the current strength in homebuilding is likely to fade later this spring. Housing looks sturdy right now because of low rates in December and January. Sales of existing single-family homes jumped 6.5% in February, the largest monthly increase in more than three years.
Because of reporting lags, March and April home buying should hold firm, but activity will diminish. Mortgage applications to buy a home have dipped, and refinancing volume has crashed by 50% in only the last few weeks. Higher rates will hit builders at a time when the inventory of unsold new homes is near the high levels reached in the 1980s.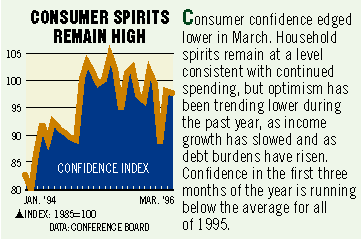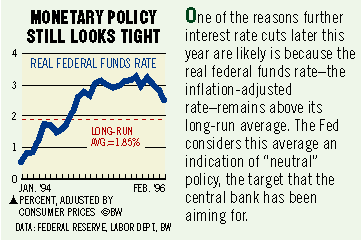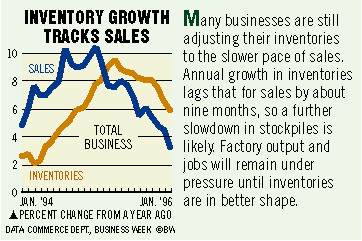 Inventories generally will continue to be a drag on growth. Business inventories rose in January and sales fell, reflecting weather disruptions, but the annual trends show that stockpiles are still growing much faster than sales (chart). The yearly pace of business sales leads inventory growth by about nine months. Without a sudden surge in demand, which seems unlikely, that means many companies will remain under pressure to reduce inventories in coming months.
Given trends like these, a sustained rebound in production, hiring, income, and spending seems unlikely. That's the bad news. The good news: Later this year, lower interest rates will be on the way to feed economic growth into 1997.
Before it's here, it's on the Bloomberg Terminal.
LEARN MORE