The Flag Drops On The Great Brazilian Auto Race
Prospects of a huge Brazilian market spark big foreign outlays
On Mar. 11, a phalanx of top Ford Motor Co. manufacturing and marketing executives descended on the company's plant outside Sao Paulo, meticulously checking preparations for the Apr. 15 launch of Ford's new European-designed Fiesta car in Brazil. It's a critical moment for Ford as it attempts to play catch-up in one of the world's fastest-growing auto markets. Confident of a big win, Ford has dissolved its big Brazilian joint venture with Volkswagen and is going it alone, pouring a planned $2.5 billion into factories, products, and sales. After losing out to rival General Motors Corp. in a bid for a major venture in China, Ford executives are anxious for the company to be a winner in Brazil.
Ford isn't the only auto giant targeting Brazil. The heavyweights already there--VW, Fiat, GM, and Ford--together are investing close to $9 billion in Brazil through 2001. Planned outlays by a host of newcomers, including Honda, Hyundai, Mercedes-Benz, and Renault, may up the ante to a total of $11 billion. The spending splurge will nearly double Brazil's production capacity, to 3 million light vehicles per year (chart). That will move Brazil into the upper echelon of global auto producers. "Our forecast is that Brazil will break into the top five," says Mark Hogan, president of GM do Brasil.
What's spurring this spate of investments is the growing confidence in Brazil's economic recovery, which is expected to boost auto production to 2.2 million cars per year by 2001, up from 1.6 million last year. And Brazil is all the more attractive for Ford and other multinational auto makers because, unlike China, it's already a lucrative market--not just a sponge for investments made in hopes of future returns. "In China, we're trying to plant trees," says James G. O'Connor, Ford's executive director for the Americas and worldwide exports. "In Brazilwe have a mature forest and we want our share of the trees."
DUBIOUS MOVE. But Ford's seven-year Autolatina venture with Volkswagen, which produced both makes of cars in Brazil, gave VW the upper hand in the key small-car market and left Ford with an overall market share of just 12% last year.
Now, with its big push in Brazil, Ford aims to recapture a bigger slice of the market, currently led by Volkswagen, which gets 34% of all vehicle sales. It also wants to share in the profit bonanza being generated in Brazil by competitors such as GM, which analysts say is the top moneymaker there.
GM's earnings reflect the boom in auto sales triggered by Brazil's economic upsurge. Although GM doesn't break out earnings in Brazil alone, it says the country accounts for the vast majority of its Latin American profits, which totaled $713 million in 1995. That's down from $828 million in 1994 because of currency fluctuations and rising competition but up sharply from $209 million in 1992, before Brazil's economic recovery began. CS First Boston analyst Nicholas J. Colas expects that GM's return on capital in its Brazilian operations "will run 25%-plus annually for the coming years."
The prize in the stepped-up competition is not just Brazil but also neighboring Argentina. Increasingly, auto makers see South America's two largest economies as one market and Brazil as an export platform for the rest of South America. Last year, the two countries together built 1.9 million cars, including 300,000 in Argentina. By 2001, DRI/McGraw-Hill forecasts, the total for the two countries will rise to 3.1 million. And as partners in the Mercosur free-trade pact, Brazil and Argentina are rapidly integrating their auto industries through automotive trade and coordinated investments by auto makers in both countries.
Thus, the prospect of a huge Mercosur auto market is spurring big spending in Argentina as well. Over the next four years, investments totaling $4.7 billion are planned in Argentina by Brazil's Big Four and others including Chrysler Corp., which doesn't manufacture in Brazil. The auto-making capacity to be created by this spending splurge, far outrunning actual production, amounts to a big bet on future Mercosur growth. By 2000, DRI/McGraw-Hill forecasts, combined capacity in Brazil and Argentina will total 3.9 million light vehicles annually, including 900,000 in Argentina.
TIES THAT BIND. Autos are becoming one of the strongest ties that bind Mercosur. Under an accord signed in January, auto makers with plants in both Brazil and Argentina will be allowed to import cars and parts in either direction duty-free if the companies offset the imports with exports of equal value. Ford, for example, will make the Fiesta and some pickup truck models in Brazil while producing the new version of its Escort subcompact and its Ranger pickup in Argentina.
As a further lure to auto companies to set up plants, Brazil has slapped hefty duties on imports of competing autos from outside Mercosur. This move runs counter to Brazil's lowering of most trade barriers. To attract coveted auto plants, President Fernando Henrique Cardoso has revived for the auto industry a version of Brazil's former protectionist "import substitution" policy, which first drew GM, VW, and others to the country decades ago.
Under a new law, assemblers established in Brazil are allowed to import cars at half the 70% duty that Brazil slapped on auto imports a year ago and can bring in components, technology, and raw materials at reduced tariffs. For Brazil's Big Four, it's a dream law. They are able to import cars to complement their Brazilian lines while global rivals are practically blocked. "With a 70% duty, you've been priced out of the market," says Hogan of GM do Brasil.
Still, the Brazilian market is getting crowded. "The auto makers already here always had a comfortable situation," says Julieda Puig Pereira Paes, an auto industry analyst with Citibank in Sao Paulo. "Now, they'll have stiff competition."
Among the newcomers, Renault, which already produces cars in Argentina, is the most ambitious. On Mar. 12, it announced plans for a factory in Brazil's southern state of Parana to build 120,000 cars per year, part of a $1 billion planned buildup by Renault. Mercedes-Benz, as part of its strategy to expand outside high-cost Germany, will build a $400 million factory to make up to 80,000 models a year of relatively inexpensive A-Class compacts starting in 1998. Honda Motor Co. plans to base its Latin American operations around a $100 million plant that is expected to produce 30,000 Civics annually by the end of the decade.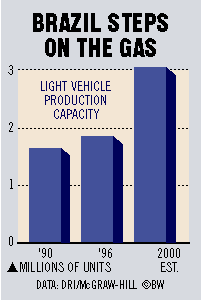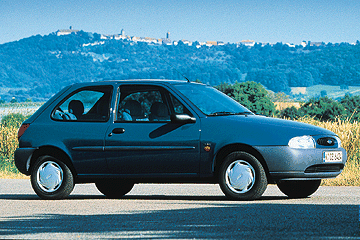 A prime target of newcomers and entrenched players is Volkswagen's dominance in small cars. Fiat, for example, will launch production of its Palio "world car" in Brazil next month. Against such encroachments, VW has a big stake to protect in Brazil, the company's largest market outside of Germany. In 1995, VW do Brasil built 550,000 vehicles. To defend this turf, Volkswagen is investing $2.3 billion through the end of the decade to nearly double its production in Brazil, to 1 million cars annually.
"BIG NUMBERS." Investing in Brazil still carries some risk. Auto makers are betting on continued stability and annual GDP growth of 4% to 6% a year. Both could depend on the success of Cardoso's slow-moving economic reforms. Taxes on autos are high, and labor costs at Sao Paulo auto plants have doubled in the past three years, to $12 an hour.
But Brazil's market is too large and attractive for the major car companies to ignore. "We're going to Brazil for big numbers," says O'Connor of Ford. So are his competitors. Auto makers, start your engines.
Before it's here, it's on the Bloomberg Terminal.
LEARN MORE