Where Malt Whisky Runs In The Blood...
At the 104-year-old Balvenie Distillery in Speyside in the Scottish Highlands, 139 whisky salespeople from France are sitting in an old barn listening intently to a man dressed in a silver space suit. He is Tony Hunt, marketing director of William Grant & Sons Ltd., which owns Balvenie and the nearby Glenfiddich Distillery. Taking his cue (loosely) from Star Trek, Hunt is urging his French team to boldly go forth and sell in a country that is second only to the U.S. in whisky consumption, but where sales have dipped. On a screen behind him, a cartoon with deafening sound effects shows bottles of whisky flying like rockets through outer space. "Are you coming with us on this voyage?" cries Hunt. "Oui!" they all shout.
Goodness knows what William Grant, a tailor's son who first distilled whisky on Christmas Day, 1887, would make of all this. But clearly his descendants, who still run the business, believe in 20th century marketing--and that has helped Grant remain one of the last family-held companies in an industry now dominated by giants such as Guinness PLC subsidiary United Distillers. Back in 1967, Grant was the first company to mass-market whisky from a single distillery, or single malt, as opposed to a blend made from dozens of different malts and grain. Although most Scotch production still goes for blends, accounting for more than 90% of whisky sold, single malts have in the past decade become the industry's biggest growth sector. Glenfiddich leads with 40% of the single-malt market, selling 750,000 cases a year, followed by Glenlivet, America's top seller, owned by Canadian biggie Seagram Co.
"Prestige single malts fitted the '80s craze for quality, and quality will sustain them," says Richard Gordon, managing director of the Edinburgh-based Scotch Malt Whisky Society, which was founded in 1983 and now has 20,000 members worldwide. There is now even a Malt Whisky Trail in Speyside, whisky's heartland, with eight distilleries open to the public.
The rise of single malts, plus the growth of new markets in Asia and southern Europe, is good news for an industry whose mature markets are flat or in decline. Whisky is still one of Britain's biggest exports, worth $3 billion annually, but in the U.S., whisky consumption has dropped by nearly two-thirds since 1978, while worldwide sales have slumped by 10 million cases in the same period, to 80 million in 1994.
BOTTOM LINE. A few miles from Glenfiddich is the picturesque Macallan Distillery, which makes the third-best-selling single malt. It's still independent, although Japan's Suntory Ltd. owns 26%. Managing Director William Phillips, points out that at least 15 distilleries have been shut in the past 20 years and says accountants increasingly run the industry: "It used to be down to the skill of the blender. Now, everyone wants to know how much yield you can get from the barley." But he thinks there's a trend away from standardization: "People want character in their whisky. You don't get that from a central-office formula."
William Grant & Sons makes much of family and tradition. The distillery at Glenfiddich boasts that its whisky is the only Highland malt bottled at the source. Pictures of William Grant, his wife, and many descendants hang in the visitors' center, a converted Victorian malt barn. But the only family members living here are two of Grant's granddaughters, both in their 90s.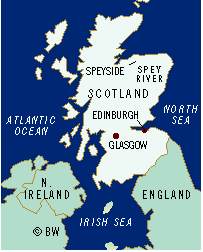 Behind the quaint distillery is a slick business operation. While 750,000 cases of Glenfiddich are bottled here each year, more than 4 million cases of its other brands, including its Grant's blend, are bottled at a massive plant near Glasgow. There is also a huge modern distillery on the west coast.
By a crackling peat fire sits David E. Grant, great-grandson of the founder and now head of corporate affairs. He is musing on whether the company can stay in family hands for another generation. At present, strict articles of association mean that only lineal descendants of William Grant and their spouses can be shareholders. "The next generation is still in school, so we'll review it when they grow up," he says. And with that thought, it was time for a wee dram.
Before it's here, it's on the Bloomberg Terminal.
LEARN MORE