Sniff, sip, swirl, savor, spit. Never swallow. Pilar Gonzalez has an enviable job: She spends her days tasting wine, trying to achieve the perfect balance of uniqueness and consistency that will keep buyers coming back for more.
The challenge is to set apart Chile's No.2 wine exporter, Santa Carolina, from its domestic and international competition. "Every sample has to be the same or better than the last bottle of wine," says Gonzalez, whose blonde ponytail and running shoes belie her 18 years as a professional wine taster. Most of that time has been spent at Santa Carolina, a 19th century oasis nestled in the cinder-block sprawl of Santiago.
BEER PLOT. Sampling the wine is more important than ever these days. Sweet-tooth Chileans, who are known to mix their wine with Fanta or Coca-Cola, are imbibing less. In 1970, the per capita wine consumption here was 50 liters a year. Today, it's 20 liters and dropping, in part because of a push by local breweries to turn Chileans into beer-drinkers. "The only way for vineyards to be successful is to go abroad," says Guillermo Tagle, who heads Banco Santander's Santiago research department.
That's good advice. Chilean vintners exported small quantities for 450 years, ever since the first European settlers brought treasured grape cuttings with them from Spain and France. But a decade ago, they targeted foreign markets in earnest. The result: Exports skyrocketed to $181.7 million last year, from just $10.4 million in 1985. The U.S. alone bought $38.2 million worth in the first 11 months of 1995.
Many Americans purchase Chilean vintages because they're cheap, starting at about $4.99 a bottle. The challenge now is to get wine-drinkers to pay more--a goal that so far has eluded many Chilean vintners, who must compete with low-priced wines from such countries as Italy. A price hike by Chilean winemakers two years ago, in fact, was downright disastrous. Dollar volume rose a paltry 8%, the lowest gain since 1983. Sergio Reyes, export director of Santa Rita, a rival winery in Santiago, blames Chile's winemakers for not understanding the "elasticity of the market." As in, there wasn't much.
"What we learned from the last attempt to raise prices is that Chilean wines filled a market-price void," says Jeff Drucker of Worldwide Wines, a distributor in Cheshire, Conn., that handles Santa Rita and several smaller Chilean vineyards. One of his clients, Tod Laudonia, says South American wines have improved tremendously in the nine years he has owned the Banksville (Conn.) Liquor Store, but they still have a ways to go before customers will pay more than five or six dollars for a bottle. "The range can vary from a very good-tasting wine to: `Why should I bother drinking this?"' Laudonia says. "And that's in one vintage."
NO NONSENSE. So Chilean vintners are working on the quality and consistency, and that's why Gonzalez is so important. She works in a plain white room furnished with simple couches, shelves, and a table covered with green bottles. "You want as few distractions as possible so you can really taste the wine. No colors, no music, no pictures," says Gonzalez, who wears a white lab coat and white jeans.
"Some days I'm tasting all day long--when the mixes are being done," says Gonzalez, who has a bachelor's degree in agricultural engineering. Other days, she works in the sun-filled laboratory or tramps through the company's four vineyards, checking the grapes.
Santa Carolina, part of a publicly traded holding company, has taken major steps to improve its wine. In 1990, the year it began exporting, Santa Carolina launched a 10-year, $15-million modernization drive to improve quality as well as broaden its palette of wines. The upgrade has increased production 50% and cut the workforce 28%. Among the changes: Santa Carolina is replacing many of its decrepit wooden barrels with stainless steel to produce the cleaner, more up-to-date taste favored by Chile's top export markets.
Americans like their wine "clean, fruity, and fresh," Gonzalez says. "You get that by having a good mix of wood and stainless steel." The British want complex mixes, which require more aging and different blends of stainless steel and wood. Chileans, whose national drink is chicha, a fermented cider, prefer their wine older, weaker, and sweeter.
URBAN ENCROACHMENT. The modernization has allowed Santa Carolina to expand into high-end wines and add a separate, premium label, Casablanca. Between January and November, 1995, Santa Carolina sold 11.2 million liters of wine for $16.7 million, trailing only Concha y Toro in exports by volume. But it was No.3 in sales. One reason: There's a lot of jug wine in Santa Carolina's figures. Competitor Santa Rita, No.5 in volume but No.2 in sales at $18.2 million, focuses on premium wines, which sell for three times as much as the cheap stuff. Santa Carolina hopes to follow suit.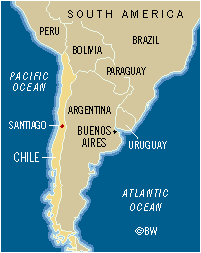 One of dozens of wineries scattered about Chile, Santa Carolina dates back to 1875, when mining baron Luis Pereira acquired farmland in what's now the middle of Santiago. He planted 55 hectares of vines imported from Bordeaux, hired a French architect to design a cellar mortared with egg white and limestone, and named the winery after his wife, Carolina Iniguez. The winery sold off the original vineyards years ago, planting its grapes in outlying areas instead. But it still uses some of the original buildings of the hacienda. The cellar, in fact, is a national monument.
Right now, Santa Carolina's history doesn't matter much to Pilar Gonzalez, who's still savoring the wine. Over and over, she sniffs and tastes, swirls and spits. Who knows, maybe the next sip will reveal that perfect mix.
Before it's here, it's on the Bloomberg Terminal.
LEARN MORE