Is All That Angst Misplaced?
America can't return to the security of the '60s, but job gains and rising wages show the worst is probably over
Ask Americans what worries them about the economy, and they'll tell you straight out: Almost everything. Slow growth. Unemployment. Inflation. Foreign competition. Somewhere along the way, they say, America has gotten off track. "I don't think you can say to your kids anymore, `If you study hard and play by the rules, things are going to be O.K.,"' says Stephen D. McGregor, 44, a public-relations executive at a Dallas technology company who in the past five years has been laid off by both American Airlines and MCI. "You can't promise that anymore."
The hard numbers, though, tell a much different story. The U.S. unemployment rate hovers at a low 5.8%. Real hourly wages are rising, for the first time in 10 years. Corporate America, flush with a string of record-busting quarters, is investing in new equipment at near-record levels. Productivity is rising. Exports are up more than 20% in just the past two years. And the soaring stock market is pumping up the retirement funds of much of the American workforce.
The problem, then? Job insecurity--and it's a big one. In January alone, U.S. corporations announced almost 100,000 job cuts, up sharply from a monthly rate of 37,000 during 1995. "In December, I was telling people [job cuts] were slowing down," says John A. Challenger, executive vice-president at Challenger, Gray & Christmas Inc., an outplacement firm. "But they're accelerating again."
The headlines are all too familiar. America's biggest companies are engaged in a brutal, wrenching transition toward a global, information-driven economy. And the price is being paid now by managers and professionals. A full 11% of male, college-educated workers lost their jobs from 1991 through 1993, according to a new study by Princeton University economist Henry S. Farber. By comparison, during the recession years of 1981 to 1983, 8% of this group experienced a job loss.
BIG BLUE BOUNTY. Look behind the headlines about massive corporate downsizings, though, and the news gets better. Of the 8 million new jobs created in the past four years, some 60% were managerial and professional positions. In 1995 alone, the U.S. economy created more than 1 million new managerial and professional jobs.
Even in industries where job-slashing is taking place at record levels, simultaneous hiring is compensating for the losses. Take communications. During the past two years, the seven regional telephone companies have slashed some 125,000 jobs, on top of the 40,000 latest cuts announced at AT&T. Nevertheless, the industry's total employment rose by 91,000 during the period, as companies beefed up employment in cellular and other fast-growing businesses.
Then there's IBM. Since 1987, it has cut about 180,000 workers. Now, IBM is handing out 8% pay increases to those who remain. More significantly, it is hiring again--for its computer-services arm. "We need roughly 10,000 people a year for that business," says IBM Chief Financial Officer G. Richard Thoman. "And our major constraint looking forward isn't demand. It is finding those 10,000 people."
For many communities, the downsizing or closing of major employers initially seems like an economic catastrophe. Yet new jobs often spring up to replace the old ones. That's true for Rochester, N.Y., which in recent years has absorbed big job cuts at Xerox, Eastman Kodak, and Bausch & Lomb. Nevertheless, the unemployment rate in the Rochester area has fallen from 4.4% to 3.8% during the past year, well below the national average.
But what about wages? Americans are gloomy because their paychecks seem to be growing more slowly than in the 1980s. But what they don't factor in is that inflation is much lower as well. Since 1993, consumer prices have risen at only a 2.6% annual rate, the slowest pace since the mid-1960s. As a result, real wages and salaries have posted about a 1% increase over the same stretch.
Compared with the huge jump in profits, those pay hikes are puny. Yet they are an improvement over the real-wage declines Americans experienced through most of the '80s and early '90s. And the trend remains positive. Based on DRI/McGraw-Hill forecasts, inflation should stay tame in 1996. So real wages and salaries could rise by another 0.6%. Surprisingly, the gains are filtering down to less-skilled workers. These are the people who saw their wages plummet even during the Reagan boom era. Yet during the past two years, real hourly wages for production and nonsupervisory workers have risen for the first time in 10 years.
MINIMAL EFFECT. Presidential candidate PatBuchanan says U.S. jobs would be higher paying--and better protected--in a country with a closed border and tough trade tariffs. Again, the numbers provide little evidence that either one has much of an effect on the wages of America's workers. A new analysis by economists George Borjas, Richard Freeman, and Lawrence Katz of Harvard University concludes that trade and immigration contributed only "modestly" to falling real wages for high school graduates in the 1980s.
The reason: Immigration and trade are simply not big enough, relative to the whole economy, to produce big effects on wages. Immigrants represent just 9% of the labor force, and merchandise imports account for only 10% of gross domestic product. Moreover, some 60% of U.S. non-oil imports come from countries with higher labor costs, like Japan and Germany, giving little incentive to cut wages in the U.S. to compete.
Indeed, trade may help explain why wages have risen during the past two years. Despite the $175 billion trade deficit in 1995, the largest on record, exports are far outpacing the growth of the overall economy. As exporting industries crank up output, they need more workers, helping push wages up. And these gains may be only a downpayment on the benefits of trade. In recent years, America's major trading partners--the European Community, Japan, and Canada--have been stuck in slow gear. As their economies stabilize, U.S. export growth should accelerate even further, pushing up wages in exporting industries.
Underlying all of these gains is a fundamental improvement in U.S. productivity growth. Right now, the official numbers show that output per worker is rising at a 1.1% annual rate, about the same as in the 1980s. But these statistics don't include data from the information economy--everything from the Internet to automated teller machines. Most economists agree that once the Commerce Dept. revises the statistics later in the decade, it will become clear that productivity is on the upswing.
Need more proof that productivity is on the rise? Look at Corporate America's profit performance. Since 1992, real corporate profits have risen by 34%, a bigger increase than they registered during the previous 15 years. And that's without significant price increases in their products. The higher profits have sent the stock market soaring by 68%--a big benefit for the approximately 20% of the workforce who own stocks or have 401(k)s. James R. Passier had worked for 29 years for Travelers Corp., the Hartford insurer, before taking a severance package at the end of 1994. But he still owns shares in the company, which have doubled in value since then. "It may not be a good place to work," says Passier, "but it's a helluva stock to own."
What about the payoff? Is Corporate America's wrenching transition creating an economy that can successfully compete in a global economy? Future economic growth is fueled by investment in physical and human capital--and in both respects, the U.S. is in far better shape than it was during the 1980s. Business spending on new equipment, financed by strong profits, has climbed to a record 8% of national output. In 1995, the manufacturing capacity of the nation's factories rose by 4.3%, the biggest increase in 25 years.
Not only do workers have newer and more sophisticated equipment on their jobs, but they also are becoming better educated. In 1987, 57% of high school graduates went to college soon after graduation. That percentage now is 62% and climbing, despite rising college costs. By comparison, the percentage of high school graduates enrolling in college hardly rose from the late 1960s to the mid-1980s. Among males, the share going to college actually fell during the period.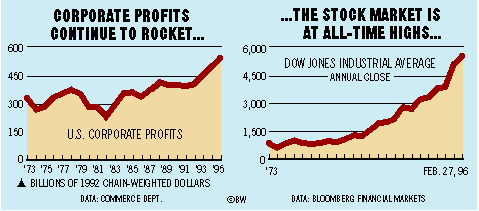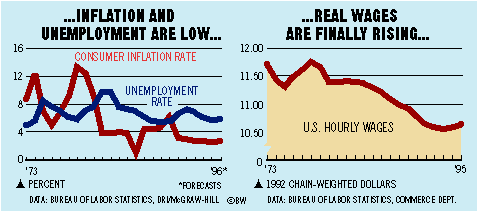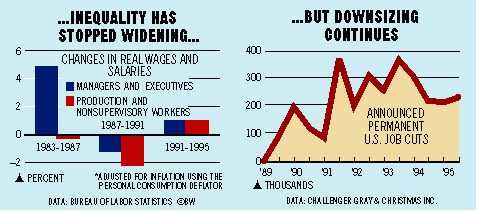 Access to education is the key to success in a world where well-paid jobs for high-school grads are vanishing and being replaced by managerial and professional positions. The challenge for America: ensuring that everyone has the chance to get the education and training needed to succeed. "The data is very clear about the relationship between education levels and economic success," says IBM Chairman Louis V. Gerstner Jr. "If our country can't get a sense of alarm and start educating the 30% to 40% at the low end, we are going to be in trouble."
Can America stage a return to the 1960s, an era of wage increases and security for all? Not likely. But there is a payoff to America's transition: an economy that will benefit most Americans--no matter what Buchanan says.
Before it's here, it's on the Bloomberg Terminal.
LEARN MORE