Can India Inc. Keep Up The Momentum?
One big obstacle: A corruption scandal could stall reform
Few Indian companies have been transformed as deeply by the free-market reforms of the past five years as Mahindra & Mahindra Ltd. As foreign carmakers such as General Motors Corp. set their sights on India, the Bombay auto maker has braced itself for the onslaught of competition. It has shed noncore businesses and pushed its unions into productivity agreements that helped it achieve full capacity at its seven plants. Mahindra also has created a joint venture with Ford Motor Co. to make compact and midsize cars. Overall, it is laying out industrial strategies for the future. "Long-term thinking was completely new to us," says Mahindra Managing Director R.K. Pitamber.
In the liberalized economy ushered in by Prime Minister P.V. Narasimha Rao, the stalwarts of Indian industry have surprised even themselves. From cars to cement to textiles, big companies accustomed to old socialist ways have not shrunk from the challenge of a more deregulated climate. Indians "have proven their ability to change at a pace that is remarkable," says Pradip Shah, chairman of Indocean Venture Advisors, a Bombay venture capital fund.
This progress is about to be put to the test. One challenge is the political uncertainty gripping India. Rao's Congress Party and the opposition Bharatiya Janata Party have both been hurt by a corruption scandal. After elections this spring, maybe in April, Rao may have no choice but to form a coalition with the Hindu nationalist BJP. If that happens, few see anything coming out of the uneasy marriage but political paralysis.
The political mess already is stalling efforts to improve the country's poor infrastructure, which hurts the competitiveness of Indian companies. Central and state governments have had a hard time pushing through modernization of power, roads, ports, and telecommunications. Companies must spend resources on captive power plants and their own jetties. As Indian industry grows, "lack of infrastructure will be a far bigger detriment than it is now," predicts Lalit Mohan Thapar, head of paper company Ballarpur Industries.
"OPPORTUNITY." Indian companies hope they can sustain their rate of progress despite these obstacles. Executives are talking a grand game. Engineering and cement company Larsen & Toubro Ltd., which manufactured 2.2 million tons of cement in 1992, now produces 6 million. Under the old "license raj" system, New Delhi bureaucrats would need to have given the O.K. before the company could increase capacity. L&T now plans to reach 12 million tons in the next few years. "Liberalization meant more in terms of opportunity than threat," says Managing Director S.D. Kulkarni.
The possibilities seem endless to New Delhi drugmaker Ranbaxy Laboratories Ltd., which wants to be India's first multinational. "We are not content to see ourselves as just a domestic company," says Managing Director Parvinder Singh, whose father started the company in 1961. Ranbaxy entered into two joint ventures, worth $90 million, with Eli Lilly & Co. last year to make and market anti-infectives and other generic drugs both in India and the U.S.
Like Ranbaxy, many of India's largest companies are family-run. Encouraged by a new generation coming to the helm, they are starting to restructure. At RPG Group, a $1.1 billion conglomerate with interests in everything from power plants to telecommunications, Harsh Goenka took over as chairman from his father, Rama, in 1988. "My father believed in intuitive management," says Goenka, 38. "I'm more involved in structured, bottom-line management." RPG now has clearer reporting structures and a corporate center for long-term strategy. RPG has also begun getting rid of some businesses. Last year, it set a record for India's biggest divestiture--selling its tire-cord company for $115 million.
One way the current political uncertainty is affecting corporate ambitions is in the realm of finance. In the past few years, Indian companies found it remarkably easy to raise money in India and abroad. Many companies fixed up their balance sheets, and once-high debt-to-equity ratios have plummeted.
But domestic and foreign investors, worried by the corruption scandals and by the reformists' electoral losses in local polls, sent the Bombay Stock Exchange index sharply lower in 1995. That has been partly offset by a recent comeback. But overall, companies' plans for equity offerings, both in India and overseas, have been stalled. In addition, the rupee has fallen 15% over the past three months, further hurting foreign investors.
A tighter monetary policy may start to hurt, too. The government has been restricting money flows to bring down the wholesale price index, which sits at about 6%, compared with 10% a year ago. Corporate interest rates are averaging 19%, compared with about 15% two years ago. With liquidity tight and expensive at home and expansion demanding more and more funds, some companies have been looking to borrow money overseas. But as the rupee is devalued, the cost of doing that is getting more expensive.
ILLUSION? Some critics also question whether companies are just benefiting from an overall surge in wealth. Thanks to favorable weather, the disposable income of India's largely rural population of 900 million has increased some 15% over the past three years. As Sanjeev Mohta, head of research at James Capel B&K, points out, corporate earnings have improved in part because companies have gotten better at managing nonoperating income, putting excess cash into good investments: "The quality of the earnings is not very good."
Companies have shown weakness in other areas. While they may be hiring more professional managers, some businesses are reluctant to give them free rein and full responsibility. Analysts are also worried that, as companies get rid of old businesses, they are moving too fast and too recklessly into new ones.
Some Indian companies may not be quite so ready to face competition as they maintain. Gurcharan Das, former chief of Procter & Gamble India and now a consultant, recalls a recent dinner party where, along with several officials from the Information Ministry, the head of an automotive company was a guest. "To me, this guy was projecting how well his company is doing," says Das. But to the government officials, the car executive complained his company needed protection from foreign rivals. "A lot of companies have two faces," says Das.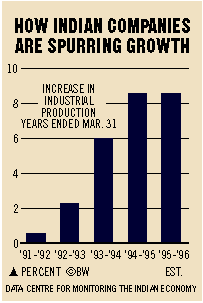 All of which helps explain why it is such a critical moment for India's broader economic agenda. So far, companies seem committed to the new world of competition. "What's been happening at the corporate level has winnowed out the forward-thinking internationalist management and given them a chance to compete effectively," says Laura E. Luckyn-Malone, New York-based director of Schroder Capital Management International Inc., which has invested $120 million in Indian equities, including Ranbaxy. Like many others, she hopes that the restructuring and modernization of Indian businesses will sustain the whole country's economic emergence. That's why the real battle for India's future may be fought in the industrial trenches, not at the ballot box.
Before it's here, it's on the Bloomberg Terminal.
LEARN MORE