The Loneliness Of The Long Distance Bear
Sooner or later, Henry Van der Eb figures, he's got to be right
These are boom times for most growth-stock portfolio managers. A surging market has made investing in equity funds more popular than ever. But for superbear Henry G. Van der Eb, this market is torture.
For more than five years, Van der Eb's $220 million Mathers Fund has braced for disaster, holding at least 50% in cash and betting against the market by selling stock-index futures short. And for more than five years, the market has raced to ever greater heights. While Mathers has outperformed the Standard & Poor's 500-stock index by two percentage points over the last 30 years, the last five years have been an utter disaster: From 1991 to 1995, the fund has trailed the S&P 500 by 75 percentage points (chart). In 1995, it gained 7%, compared with the S&P's 37.5% gain. And so far in 1996, Mathers Fund is up 0.1%, compared to the S&P 500's 5% rise.
FALLOUT SHELTERS. No wonder Van der Eb and similar stock market Cassandras are losing shareholders. Premier bear funds such as Mathers, Dreyfus Capital Value, and Comstock Partners Strategy have seen their assets wither since the early 1990s. Assets in the Mathers Fund, which is based in suburban Chicago, have plunged more than 60% from a peak of $554 million in 1992. Most of the die-hard clients who remain are seeking insurance: Investors put a few bucks into such financial fallout shelters to hedge against a rerun of 1987, when the bears cashed in on the market's crash.
After missing out on such a phenomenal rally, is Van der Eb tempted to join the ranks of the bulls? No way. He believes his ultradefensive strategy will soon pay off. The stock market is overvalued by 50%, he figures, and a big correction "has got to be close." According to him, "every day that goes by is a day closer to the day of reckoning." Fellow bear Charles L. Minter, co-manager of the Dreyfus Capital and Comstock Strategy funds, cites parallels between today's stock market and the heady days before the 1929 crash. And while some market watchers see the recent runup in gold-mining stocks as a speculative blip, Van der Eb expects demand for the metal to soar as gold becomes a more attractive alternative to what he sees as overvalued financial assets.
Van der Eb's apocalyptic views are at odds with those of most market experts. Conventional wisdom holds that a growing economy, low inflation, declining interest rates, healthy corporate profits, and a huge inflow of retirement savings will power the market to new highs. Market guru Elaine M. Garzarelli of Garzarelli Capital Inc. puts it this way: "There's nothing wrong with this market. The bears are all wrong."
ACHILLES' HEEL. The 51-year-old Van der Eb caught this bout of bear fever back in 1991, when he bet that corporate earnings would collapse. In fact, earnings surged. Now, he says, the time has finally arrived when earnings shortfalls will take the market down. "That's the Achilles' heel, without a question," he says. The benefits of a weak dollar and extensive cost-cutting have run their course, he says. The economy is slowing, and pricing power is nonexistent. And debt-laden consumers, he contends, have exhausted their ability to spend.
To exploit those trends, Van der Eb holds 51% of his portfolio in U.S. Treasuries with an average maturity of 7.5 years and another 8.5% in defensive gold stocks such as Homestake Mining Co. He has about 10% in a few stocks he believes in, such as insurer Conseco Inc. and ICN Pharmaceuticals Inc. The balance is spread among issues he considers undervalued. He hedges those holdings by selling S&P 500 futures, a practice that has hurt lately: "Like hitting a buzz saw," he moans.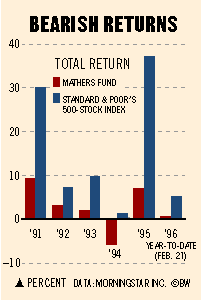 For many investors, though, the question is: Why bother with bear funds at all? Bears can simply keep their money in cash and avoid paying management fees to the funds. "I can't see the use" of these funds, says Morningstar Inc. publisher John Rekenthaler. "In a bear market, I'd rather just own cash."
Van der Eb counters that his fund can shine by taking advantage of market turmoil: He racked up a 27% gain in 1987, when the S&P 500 rose 5.3%. "You're buying that ingrained ability to go against the tide," he says. The hard part is staying afloat when the tide seems to be sweeping you out to sea.
Before it's here, it's on the Bloomberg Terminal.
LEARN MORE