Incredible Universe: Lost In Space
The superstore may have to rethink its bigger-is-better credo
No one puts the super in superstore like Incredible Universe. With glitzy emporiums the size of two football fields stuffed with everything from computers to vacuum cleaners, it pushes the retailing craze for ever-increasing store size to new limits. But losses are also mounting, and some are beginning to wonder if the chain is really so incredible after all.
Tandy Corp., the Fort Worth-based electronics retailer with sales of $5.8 billion, opened the first Universe near Portland, Ore., in the fall of 1992. Believing that shopping had gotten boring, Tandy juiced up its stores with laser shows, karaoke contests, and door prizes, and predicted the chain would break even in 1995. Instead, analyst Donald I. Trott of Dean Witter Reynolds Inc. figures Incredible Universe's operating loss last year hit $26 million, on sales of $725.2 million.
Incredible Universe's woes come at a bad time for Tandy. With its flagship Radio Shack unit maturing, Tandy counted on Incredible Universe and its Computer City superstore chain for growth. But together, analysts say, Incredible Universe and Computer City lost $50 million in 1995, pushing Tandy's net income down 5.5% last year, to $212 million. The problems have sent the retailer's stock down to 43, more than 30% below the 52-week high last September.
To stanch the red ink at Incredible Universe, Tandy is shaking up management, slowing once-torrid expansion, and rethinking its advertising. Henry G. Chiarelli, Incredible Universe's new vice- president and general manager, declined to be interviewed but said in a written statement: "We know we can be profitable. We've done it, we're doing it, and we'll make it work for the whole chain." Yet some analysts say that repairing Incredible Universe's lack of focus and overwhelming store size may require some truly incredible measures.
One problem is the overall consumer slowdown. Sales of large appliances and consumer electronics--55% of the chain's selling space--are particularly lackluster. But it's not just the economy: Although superstores are grabbing market share everywhere, Incredible Universe may have gone too far. The average location packs some 85,000 products into 185,000 square feet, more than four times the average at rival Circuit City Stores Inc. Says one superstore competitor: "It can't generate enough sales per square foot to make it profitable." And although Incredible Universe counts on its huge selection, deep stock, and entertainment to draw customers, the theme-park atmosphere is costly and some find it distracting. Moreover, while Universe prices are competitive, they're rarely the lowest in town.
Growth is another problem. Tandy aggressively expanded the chain in 1995, nearly doubling the number of stores, to 17. Critics say the expansion left management too stretched to focus on existing stores. "That's a crazy opening schedule for stores of that size," says a former Tandy executive.
NOVELTY. Tandy says Universe stores usually reach $55 million to $65 million in sales their first year. Analysts figure they break even at about $70 million. But the hardest part is building traffic after that first year, when the novelty wears off. Tandy says that three of its oldest stores had average sales of $72.5 million for the year ended last June and operating profit margins of 1.8%.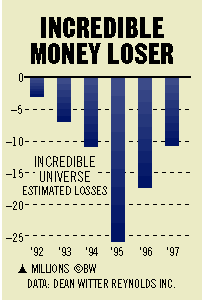 Nonetheless, Universe is slashing its aggressive expansion plans and has cut its 1996 store openings from 10 to 2 plus a smaller satellite. Tandy also shuffled management last fall, moving the former head of Universe, Richard D. Hollander, to a real estate post and replacing him with Chiarelli, a member of the task force that developed the concept. Already, Chiarelli is altering the ambience of the stores with less aisle clutter. And overhead music now targets baby boomers, not teens. New ads will stress products rather than the store concept.
Incredible Universe has tapped into some of the most successful trends in retailing: mammoth size, huge selection, and lots of glitz. But so far, the moves seem to have dropped profits into a black hole.
Before it's here, it's on the Bloomberg Terminal.
LEARN MORE