Brazil: Now The Focus Is On Fiscal Reform
Thanks to a tightfisted monetary policy, Brazil's once-surging economy is coming in for a soft landing, but the challenge of fiscal reform remains.
After the 1994-95 flood of domestic demand and consumer credit, the economy appears ready to settle into a period of moderate growth, with a stable currency and lower inflation. A recent survey of 29 Brazilian financial institutions put 1996 growth in the 2.5%-to-4.5% range, compared with 4.2% in 1995 and nearly 5.7% in 1994. The currency, now at 0.97 reals per U.S. dollar, should end the year between 1.03 and 1.10.
Inflation will edge lower, the analysts say, to a 13%-to-17% range, vs. about 20% in 1995. The monthly inflation rate in January jumped to 1.82%, from 1.21% in December, as a result of one-time shocks (chart). But by early February, the 30-day rate had fallen back to 1.16%.
Fiscal reform, however, is the key to keeping inflation down, thus allowing for lower interest rates and a stable real. Reform efforts now target the costly pension system. Even tougher battles await for taxes, civil service, and labor laws. President Fernando Henrique Cardoso must move reforms through congress by midyear, even as the political agenda focuses on October's municipal elections. And he must convince the public sector that wages and inflation are truly delinked, all while maintaining a stable monetary policy.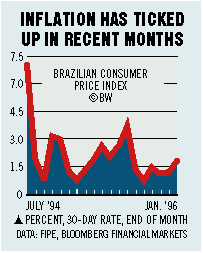 Partly to that end, the central bank on Feb. 8 restricted the inflow of "hot money" that was pulled in by Brazil's 30% interest rates but was inflating the money supply. The bank levied a 5% tax on privatization funds set up to buy shares of state-run companies, banned these funds from investing in dollar-linked securities, lengthened maturities on bonds sold abroad, and opened up real estate and small companies to foreign investment. The aim: to redirect capital to more productive investments.
The problem is that these controls do not attack the underlying cause of such potentially destabilizing inflows--the current conflict between an ultratight monetary and an out-of-control fiscal policy.
Before it's here, it's on the Bloomberg Terminal.
LEARN MORE