Skis That Make It Look Easy
Parabolics, super side cuts, hourglasses: These hot new skis go by many names, and any skier who's thinking of buying equipment at end-of-season sales might give them a test run in the next few weeks.
The sport's newest technological breakthroughs, which have taken the market by storm this year, boast extrawide tips and tails that taper toward a narrow middle. Just as training wheels help children learn to balance a bicycle, parabolics help novice and intermediate skiers develop the most difficult-to-learn skill--carving parallel turns. They have a soft, forgiving flex that's great for skiers who are tentative on tough slopes. And they require less strength to turn, so muscle fatigue is noticeably diminished.
But like training wheels, parabolics may become unnecessary, even restrictive, as a skier's skills advance. The wide surface area of the tips makes them so light on the snow that they wiggle back and forth unnervingly at high speeds. And the soft flex is a drawback for skiers who like to pop from mogul to mogul while skiing straight down the slope or for those who want a dependable edge in icy conditions. The pronounced tips also get grabby in powder snow, wanting to turn more sharply than many skiers desire, which can throw them off balance and cause spills.
Strangely, too, parabolics are not good for beginners. When trying to set a snowplow turn--in which the skis form a wedge pattern--the wide tips grab early and want to stay in the turn longer than they should. That makes it difficult to maneuver from turn to turn and could cause some slow twisting falls.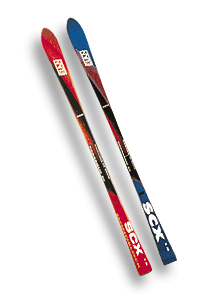 I skied parabolics on all kinds of terrain, making high-speed runs down steep, bumpy slopes and cautious turns on gentler hills. Of the models I tested, the best was the Elan SCX. It has the most pronounced parabolic design, and its firm wood core helped it carve the most responsive turns. The S-Ski Performer seemed overly flexible and not very responsive. For skiers who want a hybrid, the Head Cyber 24X and the Kneissl Ergo have a less-pronounced side cut that makes them respond more like a conventional ski. The Cyber's ribbing across the tip lends stability. K2 has tried to address concerns of expert skiers by designing a parabolic, the K2 Four, especially for those who want to tackle easy and tough terrain.
Ski-shop owners are always looking for the next product that will make current technology obsolete. If parabolics are to reach that mark, ski makers need to make them suitable for all skiers.
Before it's here, it's on the Bloomberg Terminal.
LEARN MORE