Fiddling In Washington Could Burn The Economy
A couple of months ago, forecasting the economy in 1996 looked like a no-brainer. Growth was slowing as businesses adjusted their inventories to the cooler pace of demand, but the economy was set for a lift from lower interest rates as soon as Washington could cobble together a plan to cut the deficit. Last quarter's bond market rally and Federal Reserve easing suggested that the scenario was unfolding right on cue.
That was then. Now, the question is no longer when Washington will hammer out a budget deal, but whether there will be one at all. The answer will affect both Wall Street and this year's outlook. Take away a credible budget package, and you yank a key prop from under the economy.
The promise of a historic step toward fiscal responsibility sent the benchmark yield on the 30-year Treasury bond to below 6% in December for the first time in more than two years. Many analysts believe that yields can sink to 5.5% or lower, with attendant benefits for mortgage refinancing, consumer debt burdens, housing, and a broad array of durable goods.
BUT IN A MATTER OF DAYS in early January, bond yields jumped from a low of 5.95% to as high as 6.20% as the talks hit a roadblock (chart). The power of the budget debate to sway the market was evident once again on Jan. 16. News that the two sides would simply meet again coincided with investor George Soros' comments that sent the dollar higher. The combination pushed yields from 6.14% to 6.05% in a single day.
Even so, yields remain higher than economic fundamentals would dictate. The danger is that long-term rates could go even higher with another round of disappointment over Washington's intransigence and worries about the reckless attitude of many in Congress toward the debt limit and a possible default.
House Budget Chairman John R. Kasich (R-Ohio) attempted to allay those worries on Jan. 14 by expressing confidence that the debt ceiling will be raised. But afterward, Representative Nick Smith (R-Mich.), head of the 160-member House Debt Limit Coalition, called the debt limit a "reasonable tool" in the negotiations. Wall Street bristles at such naivete, understanding that the default issue is financial-market gunpowder that could also blow the economy out of the water.
If cooler heads remove the debt-limit issue, the worst-case budget scenario is "no deal" and a continuing resolution for the rest of fiscal year 1996. Such a situation would keep bond yields higher than they would have been with a deal. But the damage would not be great, in part because the market knows the Republicans would still control the discretionary spending in the appropriation bills not yet passed.
Washington's bickering also offsets world economic conditions that would otherwise be especially favorable for lower U.S. bond yields. The dollar has strengthened. Europe is cutting rates in the face of an economic slowdown, as Germany and France flirt with outright recession. And Japan's recovery will be slow.
Global weakness may hamper what has been a sharp improvement in the U.S. trade deficit. The trade gap narrowed to $8.04 billion in October, from $8.25 billion in September. Although both exports and imports dipped in October, exports are up 11.3% from a year ago vs. a 7.1% yearly pace for imports.
As for short-term rates, because the government shutdown has held up key economic data by a month or more, the Fed may feel compelled to put off another rate cut until a clearer reading on the economy is possible. Such a delay would come at a time when the economy is slowing but no one knows by how much.
The most up-to-date information the Fed has right now is anecdotal reporting from its 12 districts, summarized in the Jan. 17 Beige Book prepared for the policy meeting on Jan. 30-31. The report said the economy "was growing at a generally modest pace at the end of 1995." Prices were "remaining stable," although "some areas still report shortages of skilled workers," a sign that the Fed is closely watching wage growth.
A MORE DETAILED PICTURE of the economy heading into the new year should begin to take shape now that the Commerce and Labor Depts. are starting to catch up with their backlog of delayed economic reports.
The availability of data means that the ever-fickle bond market may switch its attention away from the budget battle and back to the economy's health. If further data confirm the economy's softness, that would soothe the markets' disappointment over the budget, taking some upward pressure off yields.
In particular, housing has flattened out, especially in the single-family sector (chart, page 21). Housing starts increased by a larger-than-expected 5.7% in November, to an annual rate of 1.42 million, but all of the strength was in the multi-unit sector, which surged 35.6%. Single-family starts were unchanged at 1.1 million.
Like housing, mortgage applications to buy a home had also flattened out in the final months of 1995, although the level of applications was relatively high. That changed in January--after long rates launched their first budget-related spike. Applications in the first week of 1996 plunged to their lowest level since August. Many would-be home buyers may be waiting for mortgage rates to slip closer to 7% again. But without a budget package, that may not happen.
IN ADDITION, the blizzard knocked housing as well as retail sales onto the mat. That means both industries began the first quarter way below their fourth-quarter averages, so these sectors will have to crawl out of deep holes in order to post any kind of growth.
According to the reports by Mitsubishi Bank/Schroder Wertheim and the Johnson Redbook Service, retail sales fell in the week ended Jan. 13, as the blizzard forced stores to close. Even without two feet of snow, though, consumers would likely be tempering their buying this winter in response to job worries and the need to pay off heavy debts.
Shoppers already were borrowing less in the fourth quarter. Installment credit rose $8.6 billion in November after an $11.2 billion gain in October, said the Fed. Additions to installment credit have been smaller in the second half of 1995 than in the first (chart).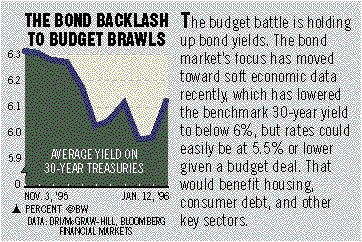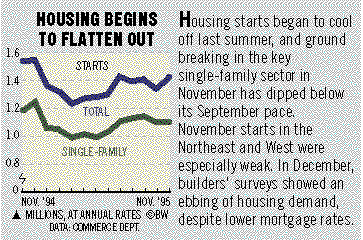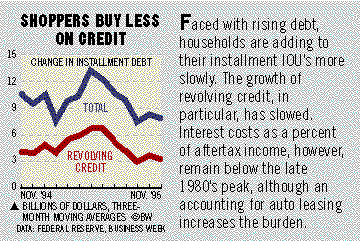 In particular, consumers have scaled down their use of revolving debt, which includes credit cards. Even with the borrowing slowdown, smaller job and income gains suggest that the delinquency rate on credit-card bills edged higher in the fourth quarter, after the third-quarter rate hit the second-highest level in 10 years.
Lower rates would offer relief to some financially strapped households. By switching to credit cards with lower finance charges and refinancing mortgages, consumers would free up extra cash and keep the expansion going forward.
That, at least, is how 1996 is supposed to play out: a budget deal, lower rates, mortgage refis, and continued growth. But as the Washington standoff and the bond market's response show, the best-laid plans of mice and forecasters could easily go astray.
Before it's here, it's on the Bloomberg Terminal.
LEARN MORE