Will Wall Street Hit A Wall?
It will be tough to match '95, but low rates could keep the market robust
Wall Street should get another gift from the Federal Reserve in 1996: continued low interest rates. DRI/McGraw-Hill predicts that 30-year Treasury bonds will end the year at 6.26%, up just a tad from 6% at yearend 1995. Rock-bottom rates mean another super year for the securities industry, since investors will keep deserting bank certificates of deposits to seek higher returns in the stock market, boosting the market and Wall Street commissions. "From everything we see, it's going to be another good year," declares John J. Mack, president of Morgan Stanley & Co.
After a slow start, 1995 blossomed into a very good year for the securities industry. New York Stock Exchange firms reaped an estimated $6.5 billion in pretax profits. That's the second-best year ever after 1993's $8.6 billion blow-out. Fueling the industry was record stock-market volume, thanks to a Standard & Poor's 500-stock index that soared 37% and strong underwriting and mutual-fund sales.
For 1996, the BUSINESS WEEK profit estimate is just $5.5 billion, though. That's because it would be tough for rates to decline in 1996 as much as they did in 1995, when they fell from 8% to about 6%. Declining rates are Wall Street's dream environment, since they boost corporate refinancing as well as the stock market.
TAKEOVER RUMORS. The new year is starting off with lots of momentum. Mergers and acquisitions were red-hot in 1995, racking up $450 billion in deals, topping the previous record of $355 billion in 1994, according to Securities Data Co. "There is no reason to believe the robust M&A market won't continue," says Kim Fennebresque, a managing director at UBS Securities Inc. Initial public offerings were another winner, with an estimated $29 billion in new issues in 1995, almost reaching the 1993 record of $34 billion.
Wall Street is notoriously cyclical, though, so the gold rush could slow in '96. The stock market is unlikely to sustain its record performance for two years in a row. The securities industry also faces excess capacity: Too many firms are fighting for the same business. Aggressive up-and-comers range from Germany's Deutsche Bank and Union Bank of Switzerland to U.S. commercial banks. "It's a difficult challenge to continue to maintain high margins," says Jerome P. Kenney, a Merrill Lynch executive vice-president.
With so much competition, consolidation is expected to continue in 1996. Rumors constantly have firms dressing themselves up for sale. Some of them, such as Lehman Brothers Inc., PaineWebber Inc., and Prudential Securities, are medium-size firms that are finding it expensive to compete internationally. Meanwhile, Goldman Sachs, Merrill Lynch, and Morgan Stanley are spending heavily to position themselves as global competitors that can remain independent. "In 1996, the large will get larger, small boutiques will prosper, and those in the middle will get squeezed," says Bruce S. Foerster, president of South Beach Capital Markets Advisory Corp. in Miami.
Whether large or small, brokerage stocks are due for a correction. Analysts aren't as hot on them, since they had a spectacular rise in 1995. Merrill Lynch & Co. shares rose 51% through mid-December, and Charles Schwab & Co. was up 86%. Mergers and acquisitions, hottest in banking and media, might lose some steam.
There are bright spots. Merrill Lynch, the biggest brokerage, sees continued growth in its retail business. Its equity assets under management have grown significantly in 1995 simply because the stock market was up 37%. This increase means more asset-management fee income in 1996, even if the growth of assets slows. And following a dismal 1995 in many emerging markets, Merrill is looking for an improvement in 1996.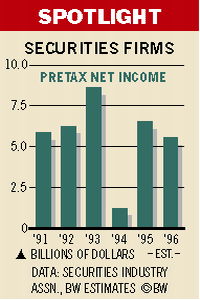 The entire industry may get a boost from Washington. A capital-gains tax cut and a restoration of tax deductibility for individual retirement accounts look likely in 1996, says Marc E. Lackritz, president of the Securities Industry Assn., since "there is broad agreement among the House, the Senate, and the Administration that this is a good idea." The SIA estimates the IRA change alone could earn the industry as much as $200 million a year in additional IRA mutual-fund fees.
Of course, it's the unexpected that hurts markets the most, as in the last big market plunge with the gulf war in 1991. A recession or sharply higher rates are constant worries. But it now looks as if Wall Street can spend another happy year looking forward to bonus time.
Before it's here, it's on the Bloomberg Terminal.
LEARN MORE