The Not So Calm Before The Storm
All hell will break loose when deregulation hits. For now, business is strong
The telecommunications industry is setting off on a great adventure in 1996: The forces of competition are being unleashed in all parts of the business for the first time. However, most of the year will be a profit-boosting calm before the storm--"the last good year before competition starts in earnest," says Simon W. Flannery, an analyst at J.P. Morgan Securities Inc. "The cable companies rolling out telephones, the Bells getting into cable, PCS [wireless] systems being switched on--all the things we're just guessing at at the moment will start coming into focus in '96."
Congress had tried for two decades to pass legislation that would overhaul the 1934 rules regulating telecommunications. Finally, at the tail end of 1995, Congress was able to write a sweeping telecom-deregulation bill that allows long-distance carriers, local phone companies, and cable-TV operators to enter one another's markets. And even without Congress, about half the states are freeing up local phone markets. By next January, competition should be busting out all over.
The telecom legislation allows long-distance and cable-TV operators into the local phone market immediately. Local monopolies can offer long distance and cable TV outside their regions at once, and in-region as soon as competition is established. If there are no hitches, Bell Atlantic Corp. Vice-Chairman James G. Cullen predicts that consumers in some parts of the country will be able to choose a local phone company by the end of 1996.
GRAB A PARTNER. As all the industry's players scramble to ready themselves for this brave new world, expect to see a flurry of alliances, partnerships, and outright acquisitions. Bell Atlantic Corp. and Nynex Corp., which have teamed up in three wireless and entertainment partnerships already, are likely to offer long- distance together as well. Analysts say other such pairings are probable. And look for buyouts of small long-distance and alternative-access companies such as WorldCom and MFS Communications.
In the meantime, business is booming. Demand for Internet access, the growth of telecommuting, the huge popularity of cellular phones, and a surge in data transmission all make telephony a growth business. Long-distance calling traffic accelerated by 8% in 1995 and is expected to grow another 8% this year. Local phone companies should add access lines at a rate of 3% this year, compared with 1% to 2% earlier in the decade.
The result: Phone companies are bringing in money like never before. Steven R. Yanis of Oppenheimer & Co. expects revenues for the three biggest long-distance carriers--AT&T, MCI Communications, and Sprint--to grow by 8.2% in 1996, to $118 billion, while the seven Baby Bells should see 3.2% growth in revenues, to $96 billion.
Once competition starts, price wars will break out and margins will be under pressure. Plus, the phone companies have to start getting ready for competition now, an expensive task. Market researcher Forrester Research Inc. in Cambridge, Mass., predicts that the top local and long-distance carriers will need to spend $30 billion over the next three years to bankroll their competitive strategies. J.P. Morgan estimates that capital spending is expected to increase to $130 per phone line, from $120 per line in 1995.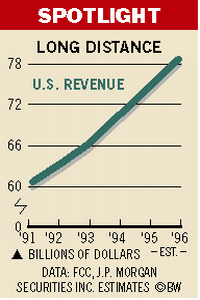 The local phone monopolies in particular must develop a competitive mindset. "They really need to get much more focused on customer service," says Larry R. Levitan, managing partner for Andersen Consulting's communications group. For proof, just look at a new study from Deloitte & Touche: Nearly 40% of corporate telecom managers say they would be likely to switch from their traditional local-service provider if given a choice of comparable quality. That's why industry analysts think phone companies with large rural territories and few corporate customers, such as SBC Communications Inc. and U S West Inc., are best positioned for the deregulated world, since they are the least likely to face competition.
With the Bells freed to enter new markets such as long distance and cable, deregulation should be a "win-win" for everyone in the long run, says Yanis. "I truly believe that competition will increase the size of the whole market. This will not be a zero-sum game. It's a positive-sum game." And the starting gun is about to go off.
Before it's here, it's on the Bloomberg Terminal.
LEARN MORE