Ready All Join Arms
Cash-Rich and eager to merge, defense companies are thriving
Financially speaking, small has been beautiful for the defense industry. For two years, defense companies have produced record profits and soaring stock prices while merging into a smaller, more efficient industry with fewer, bigger players. Year three of Operation Consolidation will bring even more mergers. "Everybody is talking to everybody," says C. Michael Armstrong, chief executive of GM Hughes Electronics Corp.
Driving the consolidation is a persistent squeeze by the Pentagon. In 1996, procurement outlays should shrink an additional 9%, to $49.7 billion--a drop of nearly 50% from the 1987 peak spending year. And despite years of contraction, the industry must still reduce capacity by as much as 40% over the next several years, according to Wolfgang Demisch, an analyst with BT Securities Corp. Arms exports will help, as the industry's share of the world market, now about 52%, should grow modestly. But the biggest gains may be logged by companies pushing forward in promising commercial ventures, some based on defense technology.
Leading the consolidation charge will be a handful of large contractors. Analysts predict at least one more merger on the scale of last year's Lockheed Martin Corp. marriage, which created a $23 billion giant. Companies have built cash hoards as a result of cutting costs even faster than the Pentagon reduced spending, leaving GM Hughes, Litton, Loral, and others poised to buy.
MARRIAGE-MINDED. Makers of missiles, electronics, and airframes are in demand. Raytheon Co. purchased the fast-growing E-Systems last year for $2.3 billion and could easily spend an additional $1 billion in 1996. GM Hughes, with some $5 billion in buying power, could swallow the defense portfolio of a TRW or a Rockwell International, each accounting for about $3 billion in annual sales. But virtually every industry sector will attract shoppers. In 1995, General Dynamics Corp. paid just $300 million for Bath Iron Works Corp. and its $2 billion shipbuilding backlog.
One megadeal, sources say, could combine Boeing Co. and McDonnell Douglas Corp. That would be a potent combination: McDonnell's $10.1 billion in government sales with Boeing's 58% stake in the world commercial plane market. It would solve each company's perennial weakness: Boeing covets military orders, such as McDonnell's recent $18 billion award for C-17 transport planes. And McDonnell needs a commercial partner to counter Europe's Airbus Industrie and a likely threat from upstart Asian competitors. Neither company will comment publicly.
While the big companies attract most of the attention, the mergers-and-acquisitions market among smaller suppliers is likely to be no less lively. "The action is moving down the food chain," says Jon Kutler, principal of the Los Angeles-based Quarterdeck Investments.
HIGH RESOLUTION. Unfortunately for thousands of aerospace and defense workers, mergers will mean more layoffs. Even after cutting some 1.3 million jobs since the late 1980s, the industry will shrink its workforce by an additional 30% over the next several years, says Robert D. Paulson, a consultant with McKinsey & Co. Most of the layoffs will come as second-tier players bail out or get bought. Two likely candidates: United Technologies Corp.'s Sikorsky Aircraft and Textron Inc.'s Bell Helicopter unit.
Conglomerates will take advantage of high defense prices to unload businesses to move in new directions. Westinghouse Electric Corp., for instance, announced in December that it will sell off its defense businesses to help finance its recent $5.4 billion acquisition of CBS Inc.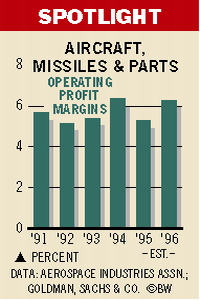 Entertainment and communications are fueling the defense industry's greatest commercial success: After surpassing 1 million subscribers in its first year of operation, Hughes' DirecTV unit has announced plans to expand its satellite-TV service globally. And a consortium that includes Lockheed Martin and Raytheon has invested more than $500 million to provide high-resolution satellite images to real estate agents and farmers, potentially a $2 billion-plus market.
Such reassuring signs, together with the consolidation craze, have Wall Street predicting another year of bulging profits. BT Securities' Demisch expects defense and aerospace profits to rise at least 15% in 1996, to about $5 billion. Downsizing is painful, but for those who hang on, the rewards can be formidable.
Before it's here, it's on the Bloomberg Terminal.
LEARN MORE