Prognosis '96 Telecommunications
Positives
-- Deregulation will unleash a wave of investment and creativity.
-- Demand is booming. Long-distance usage keeps rising, and households are adding second lines in record numbers.
Negatives
-- While deregulation is in sight, state and federal agencies must work out hundreds of details first.
-- Carriers will have to spend billions of dollars to get into one another's markets.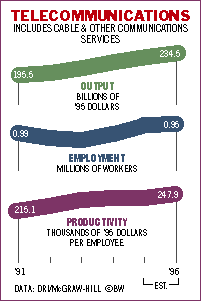 Before it's here, it's on the Bloomberg Terminal.
LEARN MORE