Positives
-- With more consumers eating on the run, companies emphasizing convenience will find eager customers.
-- Food-service operators will grow by opening outlets in stores, supermarkets, and gas stations.
Negatives
-- Value-conscious shoppers will resist price increases.
-- Supermarkets will continue to lose "share of stomach" to sharper food-service operators, such as Boston Chicken.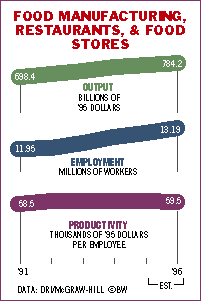 Before it's here, it's on the Bloomberg Terminal.
LEARN MORE