Picking Up Speed
Airlines are finally in the clear--and railroads may link up
Transportation services expect modest growth in 1996, with airlines and railroads faring best and truckers bringing up the rear. All three sectors are focusing on improving productivity--and keeping a close eye on the merger scene.
Airline executives are happiest: After five years of losses and retrenchment, the industry has finally recovered. Net profits in 1995 totaled about $2 billion, vs. a $279 million loss in 1994. In a sentiment widely echoed by his peers, Continental Airlines Chief Executive Gordon M. Bethune says: "It's a pretty rosy-looking '96."
With traffic expected to grow only about 3% in 1996, airline profits will hinge on keeping costs in check and capacity usage up. That won't be easy. Unit costs will rise 1.5% to 2% for the major carriers, after holding steady in 1995, says analyst Samuel Buttrick of PaineWebber Inc. "We've picked the low-hanging fruit," agrees Delta Air Lines Inc. CEO Ronald W. Allen. "It's going to get tougher from here on out."
The good news for airlines is that capacity should grow more slowly than traffic, meaning fuller planes and higher fares. Systemwide capacity for U.S. airlines grew about 2.5% last year, and it's likely to show a similar increase in '96, estimates David A. Swierenga, chief economist for the Air Transport Assn. That bodes well for fares. True, the rapid expansion of such low-cost carriers as Southwest Airlines Co. and ValuJet Airlines Inc. will help to hold fares down. But Edward P. Gilligan, executive vice-president for American Express Co.'s Travel Management Services, predicts that airfares will rise an average of 3% to 4% this year, with only limited and carefully targeted discounting.
BOLD COMBINATIONS. The airlines' discipline is expected to translate into higher profits. A bullish Steve Lewins of Gruntal & Co. figures major airlines' earnings will soar 56% from 1995's modest level. The rising profits complicate carriers' efforts to wrest major concessions from their pilots so they can better compete with lower-cost carriers. Still, pilots at American and Delta have recently announced a willingness to consider wage and work-rule changes on short-haul routes that airlines have been farming out to other carriers.
There's still one unsettling question as the industry reaches cruising altitude: Will airline mergers mar the flight plan? A new round of dealmaking could distract execs from rebuilding balance sheets and improving service. United Airlines Inc. decided last year not to pursue a marriage with USAir Inc. And American says it won't strike first. Still, no one rules out a new wave of merger mania in 1996.
Railroads, in contrast, are already pursuing bold combinations. Union Pacific Corp. is seeking government approval for its $3.9 billion acquisition of Southern Pacific Rail Corp. Its deal comes in response to Burlington Northern Inc.'s $4 billion purchase last year of Santa Fe Pacific Corp., creating, at least for now, the nation's largest railroad. And takeover rumors continue to swirl around companies such as Conrail Inc. Meanwhile, U.S. railroads are expected to be bidders this year in the privatization of Mexico's railroads.
Even without such deals, investors have much to cheer about. Merrill Lynch & Co. analyst Michael H. Lloyd expects modest revenue gains of 4% to 5% this year for the major railroads, but operating profits should grow at double that pace, thanks to productivity increases and cost-cutting. The new Burlington Northern Santa Fe Corp., for example, has already slashed jobs and has also identified almost $1 billion in operating cost savings over the next few years.
Labor remains a wild card as the railroad industry bargains with about a dozen unions to reach new contracts. But bargaining is off to a strong start with a tentative accord with the United Transportation Union, representing 25% of workers.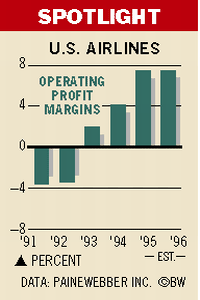 Truckers are hoping simply to bounce back from a bleak 1995. The industry has been hammered by a slowing of U.S. economic growth, a downturn in exports to Mexico, and excess capacity. After a banner 1994, bullish trucking companies rapidly expanded their fleets with bigger trucks. Now, with softer demand and lackluster earnings, analysts expect a shakeout. Swift Transportation Co., for one, is hoping to benefit: The company has made four acquisitions since 1991 and is prowling for more. Truckers will have to satisfy themselves with such hardscrabbling while railroads and airlines enjoy a relatively smooth ride.
Before it's here, it's on the Bloomberg Terminal.
LEARN MORE