Healing The Soil In A Lush Valley...
Arturo Turesca likes what he sees--nothing--as he walks among his grape arbors, peeling off dead bark and looking underneath. During the spring, Turesca released test tubes of mealybug parasites among the 20 hectares of vineyards he farms. He'll probably save money by using parasites instead of pesticides to combat mealybugs, which are the worst enemies of grape plants. And he'll make the Aconcagua Valley a healthier place.
Why is Turesca phasing out pesticides when neither chemical-free diets nor environmentalism are exactly at the forefront of national debate in Chile? His agricultural muse is Maria Helena Moreira, an exuberant 51-year-old Brazilian economist who put a successful academic career on hold to start Aconcagua Verde, an ambitious project that aims to minimize pollution while maximizing production in this lush valley 100 kilometers east of Santiago. Moreira, with backing from the MacArthur Foundation in the U.S., is looking to spark a mini-revolution in the Aconcagua. "If we succeed, this will be the only valley in Chile that will be able to produce large-scale in an environmentally friendly way," says Moreira.
Fruit is big business in Chile. Exports equaled 18% of gross domestic product in 1994 and have been rising in 1995. The Aconcagua, always an agricultural area, really started booming some 20 years ago, when Chile tore down its trade barriers. Now, nearly 70% of the valley's irrigable land--some 35,000 hectares--is devoted to export fruit production, more than half of it in table grapes.
But while exports have skyrocketed, the soil has suffered, admits Claudio Garcia, Aconcagua Valley manager for Chiquita Exportadoras Ltda. "There's a lot of natural degradation--the soil is heavily worked by machines and people, so it has become much less porous." Then there are pesticides. Like most grape farmers, Turesca has to abide by exporters' rules. The exporters are in turn bound by the rules of importers--mostly the U.S.--which require that fruit be 100% pest-free. Many farmers spray fruit with twice as many pesticides as necessary just to make sure.
The ravages of grape monoculture began to bother Moreira during a visit she made to Chile in 1990. Late that year, she applied, along with sociologists and scientists from the University of California and the University of Rio, to the MacArthur Foundation for an international-cooperation grant. The project: to study the effects of monoculture on the valley and figure out how to grow fruit with less damage to the soil. A tall order for $500,000, but that's how much Moreira was awarded in 1991, when she and a team of professors began surveying local farmers and exporters. In November, 1995, the project was handed over to the town of Los Andes, but Moreira has stayed on.
So far, only a handful of producers are using Aconcagua Verde's methods, but this is just the first year. Garcia expects the numbers to grow: "I would imagine that costs will drop as productivity rises," which happens as soil regains its health.
Moreira and her crew recommend that farmers let certain weeds grow under their arbors to prevent erosion. What controls the weeds? Geese. "They do the mowing--and we plan to start a side business selling down for sleeping bags and quilts," she says.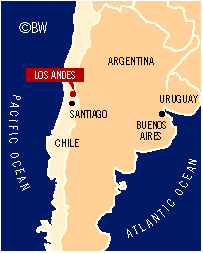 When a Basque dandy bought the Aconcagua Valley in the 19th century, his plan was to cut a mule route to Argentina through the middle of it. The plan didn't take hold, but a century and a half later the concept of the valley as a throughway is coming back. The main road from Santiago is going to be widened, which will halve travel time to 45 minutes, a tempting thought for smog-sick city dwellers longing to escape. Residential plots are now selling for four times as much as they would as farmland.
A proposed tunnel from Argentina could also threaten the valley's agricultural future. Chile's congress is considering carving a tunnel through the Andes that would serve as a bridge between the Pacific and the Atlantic. The resulting commercial and residential development "would doom the valley in terms of agriculture," says Moreira. Cars, not contamination, could be the valley's biggest threat.
Before it's here, it's on the Bloomberg Terminal.
LEARN MORE