Gloomy Days Are Here Again
Department stores show promise, but sluggish sales could sink many merchants
Consumer confidence is up, and the stock market is at record highs. But instead of merchants expect a Darwinian shakeout in 1996. "The strong are getting stronger. The weak are disappearing or consolidating," says Arthur C. Martinez, chairman and chief executive of Sears, Roebuck & Co.
Many retailers have reason to be gloomy. Retail sales rose only 4.5% during 1995, far below the 7% annual growth common during the roaring 1980s. They're expected to rise by the same 4.5% in 1996, while profits will remain restrained by heavy discounting.
Roughly 15,000 retail companies sought protection from creditors in bankruptcy court by late 1995, pushing Chapter 11 filings up 20% from 1994. Retail economists expect even more in 1996 (chart). That's because this latest round of financial troubles isn't just from taking on too much debt. It's concentrated among regional retailers with outdated computer systems, yesterday's merchandise, and aging stores. For many, liquidation may be the only answer, says Carl E. Steidtmann, chief economist of Management Horizons, a consulting unit of Price Waterhouse based in Columbus, Ohio.
The trouble is, consumers just aren't spending much. Incomes are fairly stagnant, and consumers' non-mortgage debt-to-income ratio hit an all-time high of 19% in late 1995. What's more, baby boomers are paying more for services, from child- to elder-care leaving them less for shopping. And consumers have discovered that they can get hefty discounts by waiting for sales. "Now that we've taught them to do that, we shouldn't sit around and wonder why," says John Ronzetti vice-president of the National Retail Federation.
KMARTS CONSTRACTION. Discounters are feeing a lot of pain. A raft of regional chains, including Bradlees Inc, and Caldors Corp., sought Chapter 11 protection in 1995 as competition from fast-growing Wal-Mart Stores Inc. and Target Stores intensified. The shakeout many even claim Kmart Corp., the nation's third-largest retailer, retail expects say. Kmart CEO Floyd Hall, who replaced the ousted Joseph E. Antonini in June, says he will close 70 stores in 1996, cut $300 million in costs, and continue to unload inventory. 'The best answer to Chapter 11 [talk] is to have a solid performance under our belt," he says.
Easier said than done. Just ask specialty retailers, who are expecting another drab year for apparel sales. Clothing sales are expected to grow only 3.5% in 1996 after a 2.5% increase in 1995. St. Louis-based Edison Brothers Stores Inc. filed for Chapter 11 in November and plans to close 500 of its 2,700 mall-based shops. Ann-Taylor Stores Corp. is heading for a makeover after suffering a double-digit tumble in same-store sales in 1995--the result of fashion and pricing miscues in an unforgiving market, says retail consultant Alan Millstein, who publishes the New York-based Fashion Network Report.
HITTING THE GAS. For beleaguered catalog companies, 1996 may spell a bit of relief. Hit by higher paper and postage costs, catalogers saw their bottom line take a beating in 1995; Lands' End Inc. profits throught October dropped 61%. A survey of U.S. catalogers by consultant A.T. Kearney Inc. found 62% expect sales to increase in 1996.
Department stores should continue to slowly regain maket share from outlet stores and off-price retailers. Lower prices--and thinner margins--are the key. "We've had to get our costs down to offer fashion that's also a value," says Allan Questrom, CEO of Cincinnati-based Federated Department Stores Inc., parent of Macy's and Bloomingdale's.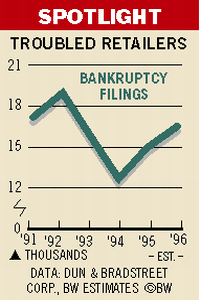 Consumer-electronics stores are ecxpected to have another hot year, as shoppers snap up computers and related items. That means strong revenue growth for category killers--high-volume specialty chains such as Best Buy Co. and Circuit City Stores Inc. But they, too, must settle for the slimmest of margins.
Sears seems to be getting the formula right. It's one of the last department stores with a broad array of hard goods, such as appliances and computers. With these products going gang-busters and its apparel share expanding, Sears is winning market share. Says CEO Martinez: "When that happens, you push the accelerator a little harder." But in what looks like a treacherous 1996, many other retailers will be satisfied just to stay in the road.
Before it's here, it's on the Bloomberg Terminal.
LEARN MORE